Shaotong He
Baden-Württemberg – Catalunya exchange grant
September - October 2019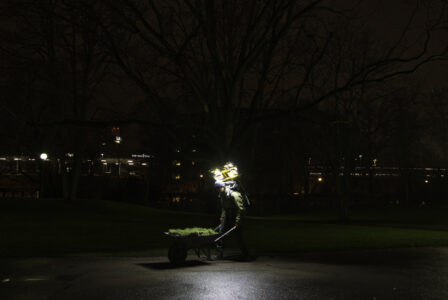 Shaotong He. Beijing, 1990
A major attempt of He Shaotong's artistic practice is to explore the possibilities of art displaying in site-specific/physical-space-independent ways. In his working principle, art spaces shall not play a role of the terminal of art production, which in a certain level remains a hierarchy of "seeing". Mostly in this sense, he avoids orienting art works to fit the art-space-standards, but intends to make the experiencing happen in more variable ways and dissolve the hierarchy of "original" and "reproduction" of image.
Though many of his works have performative features, are not intended to reach a large public nor enable sensational live experience. Nevertheless, they had their one and only privileged "witness", which might include such as surveillance cameras and satellite etc. For all the other audiences equally, there are the documentation or the reproduction of these works in various media to view, namely the "second hand" images.
Shaotong He achieved his bachelor degree majored in Painting from Academy of Art & Design of Tsinghua University, Beijing. He graduated from class Christian Jankowski at Stuttgart State Academy of Art & Design in 2019 and achieved Diplom of Fine Art.
His recent works have been shown in the solo exhibition "STUTTGART XVI-XVIII" at Hive Center For Contemporary Art, Beijing, 2018.
Previous participated exhibitions including: "Yellow Reflection", Gallery Liusa Wang, Paris, 2019; "Ohne Titel", e28, Stuttgart, 2019; "Where Plato Taught" Academiae Youth Art Biennale, Fortezza Franzensfeste, 2018; JIMEIxARLES International Photo Festival, Xiamen, 2017; Sinopale, Sinop, 2017; "I Do(not) Want To Be Part Of Your Celebration", Qiao Space, Shanghai, 2017; "Surplus Management", Sorgenfrei 1/Schwankhalle, Bremen, 2017; "Manifestina Goes Palermo", Palermo Space, Stuttgart, 2016; "Manifestina", Manifesta, Zürich, 2016; "Anwandlung", Galerie Barbara Oberem, Bremen, 2016; "How To Be A Successful Artist", Projektraum Lotte, Stuttgart, 2016.
Residency projects including: Sorgenfrei 1/Schwankhalle, Bremen, 2017; Kulturakademie, Istanbul, 2017(as "Maria" in the project of Christian Jankowski); Kunstverein Kleinmachnov, 2014.
He has never received any remarkable prize.