Mission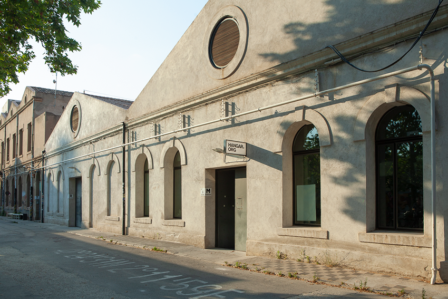 Hangar is a centre for art research and production, offering support to artists.
Hangar's mission is to support the visual artists and creators during the different phases of their art production processes, as well as to contribute to the best development of their projects. For doing so, Hangar facilitates them equipments, facilities, production assistance and a suitable context for experimentation and free knowledge transfer.
The centre offers an array of services and a framework that allows for the research and development of art productions in their entirety, or partially. Hangar follows up on the results by including the projects in various networks and platforms, or by detecting possibilities for their incorporation within other fields.
Hangar's headquarters are in a building -loaned by the Barcelona City Council- that is located in the Can Ricart complex, an industrial environment within the Poblenou neighbourhood in Barcelona. The architecture is from the mid 19th Century, and was originally designed for the textile industry. Up until the closure of industrial activity in 1991, different companies established themselves in the building that Hangar now occupies.
At present, and after the centre was extended to the adjacent warehouses, the buildings used by Hangar cover a total surface of 2,600 m2, and are distributed in the following way:
.- A first building, the origin of the entire center, with a total area of 1800 m², distributed on two levels of a single floor. The space accommodates 15 individual studios for artists; a multi-purpose area for workshops; two multi-purpose rooms; the areas of the projects-in-residence; a classroom and a carpentry workshop.
.- A second building, the Ricson, essentially used as a multi-purpose set, with a set space of about 150 m², dressing rooms, production room and scene control booths.
.- A third block, known as Microfugas, which contains the video labs, the soft/hardware and interaction lab, the coworking space and the Hangar offices.
.- A 4-bedroom residence.
Furthermore, Hangar offers equipment rental services, technical assistance, advice and production support. Hangar also develops artistic research projects and its own program of activities, which includes, among others, presentations, workshops and other training activities for artists.
Hangar is mainly funded by the Regional Government of Catalonia and the Barcelona City Council, and enjoys the specific collaboration of the Banc de Sabadell Foundation for resident artists' activities, the Ministry of Culture  and the European Commission for the development of specific projects.
Hangar is managed by the Fundació Privada AAVC. Its management model and its vision as a public service focused on production and research makes Hangar a space that specializes in providing support for artists.