Sofiane Zouggar
Creation Residence BCN>ALG>TNS
December 2018 - January 2019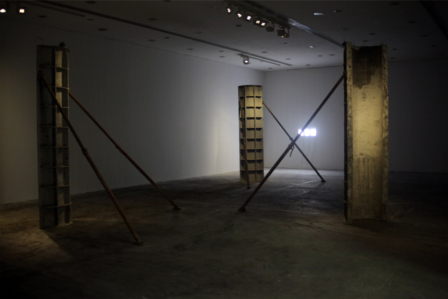 Sofiane Zouggar. Khemis Miliana, 1982.
Sofiane Zouggar has graduated in Ceramics from the École des Beaux-Arts of Algiers in 2010. His work focuses on researching the Algerian identity and sociopolitical issues, as well as the human conditioning in relation to information. Working since 2013 on the archive and memory of the "Dark decade" (or "The Algerian civil war") through exploring the image as collective memory. His work, also questions the image of violence related to architecture and images over the collective memory in Algerian society, and recently began work on temporary spaces as Utopia on Football Ultras in Algeria as a model of social and political claim.
Sofiane uses different mediums such as photography and video, sound, movement and interactive installations. He has participated in several exhibitions including Dak'Art 2012 Biennale in Dakar, Senegal; the World Event Young Artists in Nottingham, UK ; Picturie Générale in Algiers, Algeria; the "The MoMRtA" (The Museum Of Manufactured Response To Absence) at The Museum of Modern and Contemporary Art – MAMA in Algiers, Algeria; The Algerian Pavilion at the Dak'Art 2014 Biennale in Dakar, Senegal; Festival National de la Photographie d'Art (FESPA), La condition humaine, Algiers; The Qalandiya international Biennial in Ramallah, Palestine; The Bienal de Imagen en Movimiento in Buenos Aires, Argentina, Pan-African video art festival Boda Boda Lounge, Algiers. And recently in June 2017 at Museum of Contemporary Art Leipzig "Chinafrika, under-construction" and in October 2017 group exhibition at Les ateliers Sauvages" Effacement", March project exhibition, commissioned by Sharjah Art Foundation.
https://www.sofianezouggar.com/
Photo: Temporary flesh walls' stories, permanent posters and one portrait.
3 used Formwork ( fiber glass) 60×300 cm, Photography\Lightbox, dimensions variable.
Sharjah Art Foundation, UAE, 2017.