Tali Serruya
Long term residency
April 2017 - 2019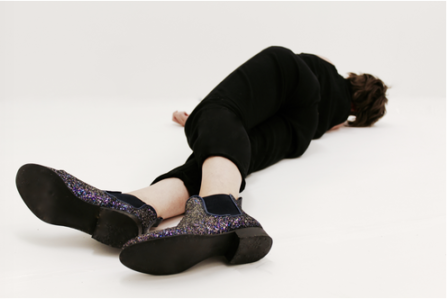 Tali Serruya (Panama, 1985)
Period of residence:
Long stay: April 2017 – 2019
French-Argentinian multidisciplinary artist based in France.
After obtaining a Bachelor's degree in World Theaters at the University of Franche-Comté, she began her comparative studies on the concepts of theatricality and performativity, following in parallel the training in Dramaturgy at the University of Lausanne and in Dance, Art and Performance, at the University of Besançon. In 2012, she was part of the director's department of actors at the National Superior Conservatory of Dramatic Art in Paris (Sandy Ouvrier class) where she developed the concept of theatrical plasticity, which she will deepen developed during her MFA in Contemporary Artistic Practices at the School of Fine Arts – HEAD, Geneva.
Her work plays with the codes of the performing arts and visual art, creating performance forms that question the plasticity of representation. Its practice is developed primarily as a laboratory that brings together artists and theorists from various fields of research. Thus, she collaborates closely with the collective MACACO PRESS (Geneva), LEGROOM (Manchester) and many other artists and scholars scattered around the world, such as Gian Spina or Maykson Cardoso (Brazil), David La Sala, Tatiana Baumgartner, Léa Meier Lausanne), Christelle Sanvee, Rafael Smadja (Geneva), Lorena Dozio, Isabelle Vesseron (Paris), among many others …
In 2016 she was part of the CAPACETE (Rio de Janeiro) residence where she began a project entitled The Sandwich Generation that explores the image of the sandwich as a metaphor for a current living condition, questioning our relation to time, work, leisure, production and overproduction, through various forms that polemize the relationship between aesthetics and economics.
Nowadays she develops with the Brazilian artist and theoretician Gian Spina, a series of lectures in formats and context that generate new ways of establishing and receiving a theoretical thought.