to kosie
Long-term residency
July 2020 - April 2023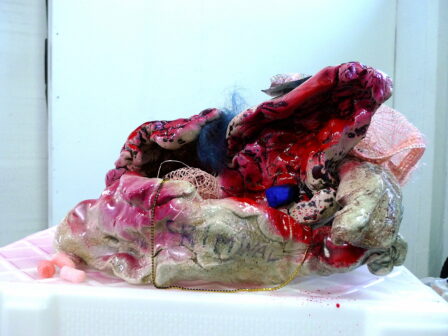 to kosie. Siedlce, Poland, 1986
to kosie's is a visual artist based in Helsinki, creating mixed media sculptures, videos and performances, working on feminist thought and implementing it in fluid sculptural forms. The nickname 'to kosie' and use of the pronoun 'it' is a gesture of giving up on the privilege of being a person. to kosie considers engagement with the materials as a base of an interaction, which remains are usually sculptures and videos.
Recently she's been working on a long term project called 'octopussy'. It is a proposal for new social structure based on feministic thought (Rosi Braidotti, Laurie Penny), it's inspired by uniqueness of octopian' body and it's going towards possible fluid / feminine forms, open for conversations, exchange. The project is focused on mixed media sculptures representing bodies in change. Repressed with postcapitalism, crawling towards connection with material reality, looking for horizontal relations with others, accepting chaos of constant movement.
to kosie's works have been exhibited at the Main Project of 6th Moscow International Biennale for Young Art, Pori Biennale III, The Festival of Political Photography in Helsinki, Gallery Labirynth in Lublin, Rietveld Pavilion in Amsterdam, Snehta Residency in Athens and many more.
Hangar Studio Visit 2020