Valentina Cardellino
Short term residency
April - May 2021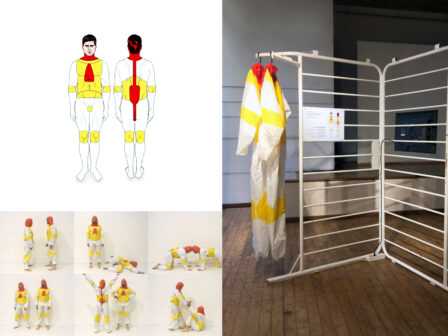 Valentina Cardellino. Montevideo, 1985
Her practice oscillates between the visual arts and architecture, developing projects of various kinds such as art installations and architectural interventions of urban scale. She is interested in the role of design and architecture in the processes of normalization of the body, in the construction of taste, desire and self-perception. Above all, observing when these designs and processes fail through appropriation, adaptation, deviant use and disobedience. Her approach to this subject is from a performative point of view, from the reiteration of certain rituals and their consequences in our body language. She has worked with manuals and building regulations, in search of those scores that seem to orchestrate our movements. Her recent projects are related to the rituals linked to democracy, and particularly, the demonstrations as the established form of disagreement. She traverses these ideas with the concept of ruin and through a choreographic language.
Since 2019 she is part of the study group Zona Degenerada, a working space on queer theory, transfeminism and psychoanalysis, and organizes, since the same year, debate workshops around architecture and body politics, in non-academic settings. She currently has her workshop at Pensión Cultural Milán where she participates in collaboration with other artists, especially in collective performances.
Graduated from the School of Architecture, Design and Urbanism in Uruguay. She studied at the Escuela Nacional de Bellas Artes, the Foto Club Uruguayo, the Fundación de Arte Contemporáneo (FAC) and various art and philosophy workshops in Montevideo. She has won the Intemperie awards from the Pedro Figari Museum (2015), Paul Cezanne (2018), Grand Prix de l'art contemporain Alliance Francaise/DSO Group (2019). She exhibited her work and held artistic residencies in China, France and Uruguay. She was awarded with the first prize in the architecture competition Espacio Público Las Pioneras, a project carried out in 2019 in Montevideo.