Sonic Fabric a workshop with Chicks on Speed and Sabine Seymour.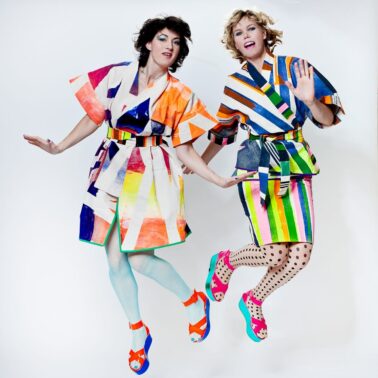 Workshop  organised by Hangar with Sabine Seymour and  Chicks on Speed with collaboration of Alex Posada
Hands on investigation into the notion of sonic fabrics for performance purposes. Chicks on Speed and Sabine Seymour join forces  to create an explosion, that resonates into the worlds of performance and "fashionable technology" , through research and experimentation into material, finding the connections between physical materials, in their raw state, and analogue processes combined with ultra-new fabric developments.
Our mission: Bring together leading edge artists, scientists, musicians and fashion designers for 4 days, to take on material and mould it into sonic objects for the body in a performing contex.
Schedule: 16h-20h, 9th 10th, 11th 12th July
Hangar, Barcelona
Cost: €85 euros.
Registrations: Application form below.
With the kind support of:
Sabine Seymour focuses on next generation wearables' and the intertwining of aesthetics and function in design and technology. She is described as being an innovator, visionary, and trend spotter in her work as researcher, conceptual designer, economist, professor, and entrepreneur. She introduced the course 'Fashionable Technology' at Parsons School of Design and lectures at universities around the globe. Sabine curates, publishes, presents, and exhibits, for example at ISEA2004, Ars Electronica, and Cooper Hewitt National Design Museum.
www.fashionabletechnology.org
Chicks on Speed Is an Art collective working in the research & visioning of fashion-audible technology for performance practice. Their work blurs the boundaries between Music, Art, Fashion & technology, to create their own brand of GESAMTKUNSTWERK. Chicks on Speed was founded by Alex Murray-Leslie & Melissa Logan at the Munich Art Academy in 1997, beginning by propelling themselves into the world of music, as a commercially functioning pop act, with a special mix of irony & electronic beats, merged with video, choreography and fashion, followed by a career as professional exhibiting/lecturing artists at art & educational institutions, in major cultural capitals around the world including; MoMA, Thyssen Bornemisza Art Contemporary 21 & Kate Macgarry Gallery. Chicks on Speed are not definers of culture,  at times they don't know the outcome of their experiments, as they're treading on territory that is yet to be mapped out.  This is a project in which the actual working process is very important in finding a future means of  cultural production, Chicks on Speed are celebrating on a path built by DADA,  a detour with The Situationist International, following Fluxus on an off road adventure.
www.chicksonspeed.com
Alex Posada is a digital creator, researcher in the field of interactive and new media. He works as a coordinator and project manager within the Hangar interaction laboratory in Barcelona. At the same time developing independent projects such as multimedia producer and works in several groups such as Dorkbot Barcelona or Neuronoise.
Some examples of Sonic Fabrics:
 "E-shoe" by Chicks on Speed The "E-shoe" by Chicks on Speed is the world's first wireless, high heeled shoe guitar, made in collaboration with Siberian born shoe-designer Max Kibardin and Hangar. The e-shoe is capable of triggering sounds wirelessly using midi. This shoe is part of Chicks on Speed´s ever growing collection of self made "Objekt Instruments" including cigar box synthesizers, super suits' with sewn-in body sensors that trigger audio/video samples, a Theremin tapestry based on illuminated drawings of Hildegard von Bingen,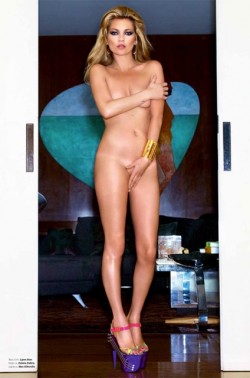 Kate Moss wearing E-Shoe, Brazillian Vogue, 2012 photo Mario Testino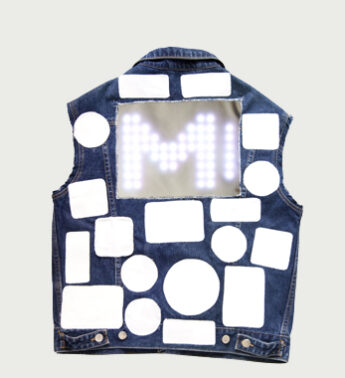 VIEW no1 by Moonstudio led by Sabine Seymour
VIEW is a garment with an animated surface that is embedded in a specific environment to enable the creation of an immersive experience for the audience. The dynamic movement on the surface of a garment draws attention. The garments are individually designed and contextualized, whether creating guerrilla marketing or a fashion statement. The version of VIEW on display uses Lumalive by Philips to create the dynamic textile surface. The animated jeans jacket of a sports fan set in a mass of people draws a lot of attention. The design of the jeans jacket, the placement of the animation, and the use of stickers are used to draw attention  in a innovative and direct way.
Theremin Thapestry by Chicks on Speed