Xesca Salvà
Production Residency in colaboration with the IF Barcelona
Setember 2017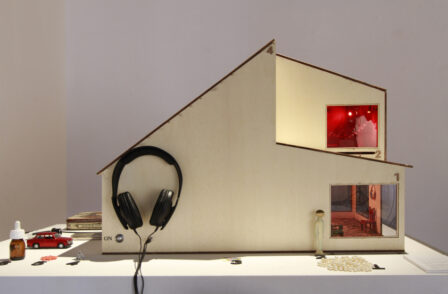 Xesca Salvà, Llucmajor, 1978.
MA in Scenography by the Institut del Teatre de Barcelona. She works mainly the visual arts field in collaboration with different scenic projects, both theater and dance.
She is currently working on an investigation on the representation of privacy, which is materialized in a first presentation called Projecte Cases. The project sets up 3 interaction games between spectators built on the basis of children's games (doll houses, construction games, etc.) and sound as the creator of intimate and  imaginary spaces. The object and the audio of some headphones will lead the viewer, who will end up being an actor and manipulator of their history and that of the others. The recorded sound (a mixture of stories and instructions for them to do actions and play with some objects) leads spectators to a concrete experience each time.
This concrete project is based on interviews with women representatives of different groups with different ways of representing intimacy: older women with houses made up of memories, homeless women with difficulties to live intimately, and sex workers, experts in representation occasional intimacy. From this material, the assembly of a small sound documentary will be the guide that will accompany the experience of the spectators.
The interest is to reflect on space as an audible building and sound as sound architecture to build emotional spaces and then convert the action / installation into a "social interstellation", a space of human relations with diversity of possibilities of exchange where people have to relate to the work and the different possibilities it offers. The unique, unrepeatable and unique performance executed by ourselves, spectators turned into actors at the moment of putting the work in operation and the experiential element of this at the moment that the device works by itself and catches us.
This particular project is in biennial residence at the IF Barcelona Festival, ans has been presented at the Center Arts Santa Mònica in November 2016 and will premiere at the TNT Festival in Terrassa in September 2017.