Alfredo Costa Monteiro presents "In order to avoid disorder".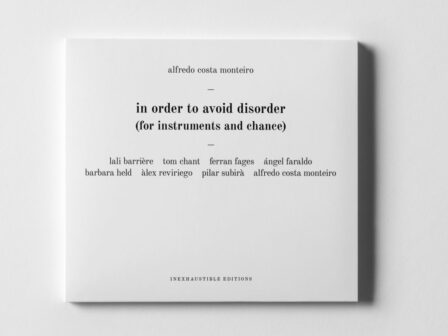 On February 12 at 7pm Alfredo Costa Monteiro, member of the resident collective Crater-Lab, presents the album In order to avoid disorder (for instruments and chance), edited by the label Inexhaustible editions, with a concert at Hangar's sala Polivalent.
Alfredo Costa Monteiro is a Portuguese artist based in Barcelona, working in the interstice between visual arts, visual poetry and sound. From a lo-fi perspective, his installations and sound proposals have in common an interest in unstable processes, raw materials and manipulation of objects or instruments with a strong phenomenological aspect.
In order to avoid disorder (for instruments and chance)
"Between order and disorder, chance appears. Being the fundamental element of this composition, it serves as a guide for each performer and gives them the possibility to reinterpret each order as the idea of a sound to come.With a score in the form of a card game or a divination session and a music consisting of the combination of three notes, the performers place themselves in space to evoke the apparent randomness of a constellation. Chance is not supposed to have an obvious cause, but here, it is precisely the same cause that allows the sounds to appear: that of a simple drawing of cards, which offers the probability that each time a different incidence on reality and its structured nature is experienced."
Alfredo Costa Monteiro
Lali Barrière, synthesiser
Tom Chant, soprano and tenor saxophones
Ferran Fages, acoustic guitar
Ángel Faraldo, no-input mixer
Barbara Held, flute
Àlex Reviriego, double bass
Pilar Subirà, percussion
Alfredo Costa Monteiro, accordion and composition
Practical information
Date: February 12, 2022
Time: 7 p.m.
Venue: Sala Polivalent, Hangar
Admission: 5 EUR