Intervention, Distortion and Subtraction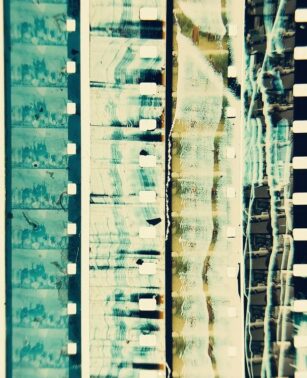 On February 5 and 6, from 10 am to 2 pm and from 4 pm to 8 pm, the collective Crater-Lab will conduct the workshop Cine sin Camara Intervención, Distorsión y Sostracció (Intervention, Distortion and Subtraction).
An initiation to different possibilities of manual intervention of celluloid, particularly the subtraction of the emulsion from the treatment of found film in 16mm (found footage), transparent film and opaque film.  This workshop focuses on the development of understanding and sensitivity towards the materiality and substance of analog film and its relationship with other visual arts. It is a practical workshop based on the direct and material experience of manual creation on celluloid.
The workshop will bring participants into contact with different types of film in cinematographic format (16mm, super8 and 8mm), the origin and development of light projection and the moving image, and the main objective of this workshop is to create a small collective experimental piece in 16mm, handmade and handcrafted by the participants. Participants are welcome to bring their own films if they wish. Otherwise, the workshop will provide all the necessary materials for its realization.
What will be covered?
– Discover the possibilities and uses of different film formats already filmed and developed.
– Screen in Super8 and 16mm
– Discover methods of intervention and plastic techniques on film.
– Processes for the lifting, manipulation and transfer of emulsion.
The workshop will focus on some processes that can be found in Cécile Fontaine's films, in collaboration with the program that Xcèntric (CCCB) is dedicating to the filmmaker on Sunday, March 6.
Participants will have a free ticket for the Xcèntric program on Cécile Fontaine on March 6, 2022.
Practical information
Date and time: Saturday 5, from 10 a.m. to 2 p.m. and from 4 p.m. to 8 p.m., and Sunday 6, from 10 a.m. to 2 p.m.
Place: Hangar
Price: 60 €.
Participants: maximum 12 people
Language: Spanish and/or English
Registration: info@crater-lab.org