Mariana Portela Echeverri presents "La Parte De Mi Más Lejos De Mi Es La Punta De Mi Lengua"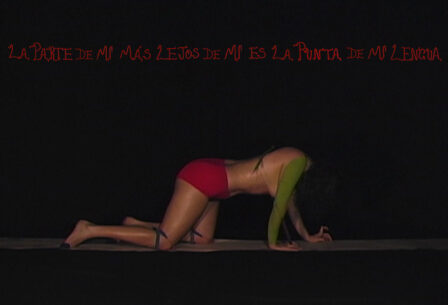 On May 5 at 6 pm Mariana Portela Echeverri presents the film La Parte de Mí Más Lejos de Mi es La Punta de Mi Lengua, a work that was made possible with the support of Hangar's 2021 production grant. The screening will take place in Hangar's Ricson room and will be followed by a discussion between the artist and the filmmaker and teacher Mónica Rovira.

Synopsis:
Within a space of imperceptible limits, we follow a character on her expedition to an unknown destination as she embarks on a series of curious encounters that will connect her to her surroundings. With each challenge, the character (the artist and director) interacts with objects and captivating artifacts that, linked together through action, create a set of sequences that trap us in a strange and hypnotic game.  
La Parte de Mí Más Lejos de Mi es La Punta de Mi Lengua speaks of the expansion of the body beyond the limits of the self. How we want, try, enjoy and fear to connect with the other. In its intrinsic eroticism, the film explores the parallelism between the movement of the body and language itself, and how the latter inhabits the former. The narrative unfolds from the action, cultivating a constant balance between that which is intuitive and that which is carefully choreographed. 
The slow pace, ambiguity of purpose and questionable functionality of objects and actions invite us to consider desire outside of a productive and/or efficient context, thus creating a thread of progressive events that evoke skill, pleasure and unpredictability.
Practical information
Date: May 5, 2022
Time: 6 p.m.
Place: Sala Ricson, Hangar
Free entrance