On-the-Fly HACK-LAB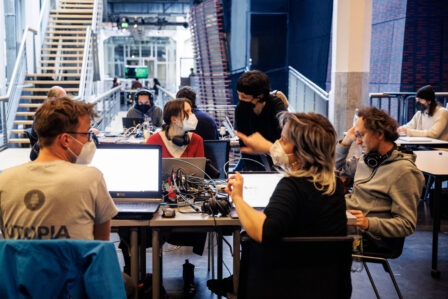 NO MORE PLACES AVAILABLE 
On March 19th and 20th from 10am to 8pm, Hangar will host the On-the-Fly Hack Lab, two days of research aimed at finding tools and answers to questions from the community surrounding live coding.
The aim of the hacklab, proposed in Barcelona by the European project On-the-Fly and the TOPLAP Barcelona community, is to work around the idea of an "interface" that can be useful for live coding.
The goal of the three days is to find a development platform that is open enough to test different options.
The HackLab is advised by Martin Klang from Rebel Technology and Manu Retamero from Befaco, experts in the field of electronics.
In the first session the participants will build a development platform with the following features:
– 6 Potentiometers and two Buttons
– Class compliant audio interface with 4 input channels and 4 output channels 16 bit 48000 Hzs (DC coupled) at Eurorack level (to control synths with voltage, CV).
– Headphone output – MIDI input and output (minijack), MIDI Host and MIDI Device
– 12 GPIO ports available
– Programmable in several languages (C++, FAUST, Pure Data, Max Gen, Etc…)
– Can be Livecodeable with Micropyton
– Open source.
The Hacklab participants will show the results of the work done on Sunday March 27th during the VIU Festival. An open session will be offered to share the process and the development possibilities of these prototypes.
The event is part of the European On-the-fly project and is supported by the Creative Europe program.