Algorithmic Art Assembly (AAA)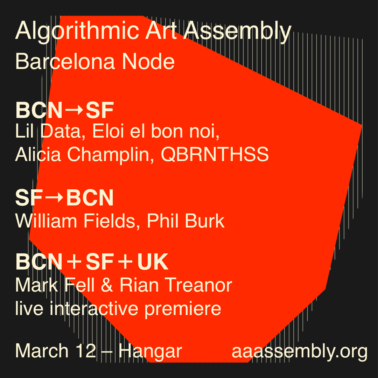 The resident collective Toplap, in the framework of Creative Europe's On-the-fly project, and in collaboration with the MUTEK ES festival, presents the first international node of the Algorithmic Art Assembly (AAA), which will take place on March 12 via streaming from 8:30pm and in Hangar's Sala Ricson from 10:10pm.
In dialogue with the city of San Francisco, the AAA will kick off at 8:30 pm with a streaming session in which AAA artists from San Francisco, such as William Fields and Phil Burk, will deliver a talk while artists Mark Fell & Rian Treanor will present a new interactive work specially produced for the AAA.
Starting at 10:10pm in Hangar's Ricson Room, PC Music's Lil Data will perform alongside local artists such as Eloi el bon noi, Alicia Champlin and QBRNTHSS, all streaming for AAA San Francisco.
This event is part of Lil Data's (Jack Armitage) residency, which will culminate with workshops, hackathons and an algorave at /*VIU*/ Festival 2022.
Program
Streaming from San Francisco
20:30 h – William Fields' talk
21:15 h  – Phil Burk – HMSL
Hangar – Sala Ricson
22:10 h – Intro (Jack Armitage)
22:15 h  – Lil Data
22:35 h  – Eloi el bon noi
22:55 h – Alicia Champlin
23:15    QBRNTHSS
Practical information
Date: March 12th
Time: 22:10 h to 24 h
Venue: Hangar, Sala Ricson
Price: 5 € (+ booking fee)
Tickets: HERE
With the support of