#ALLURE ## (for allusions)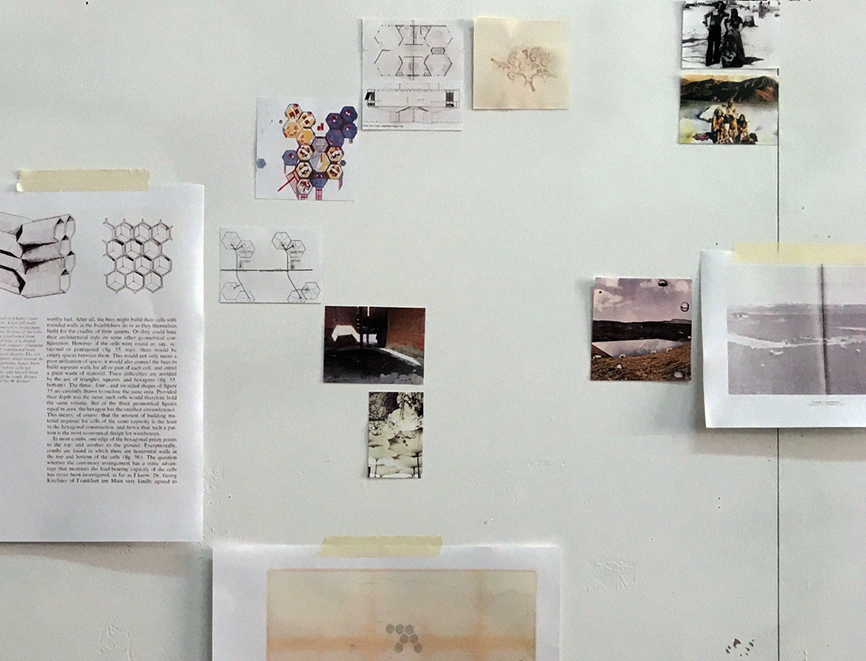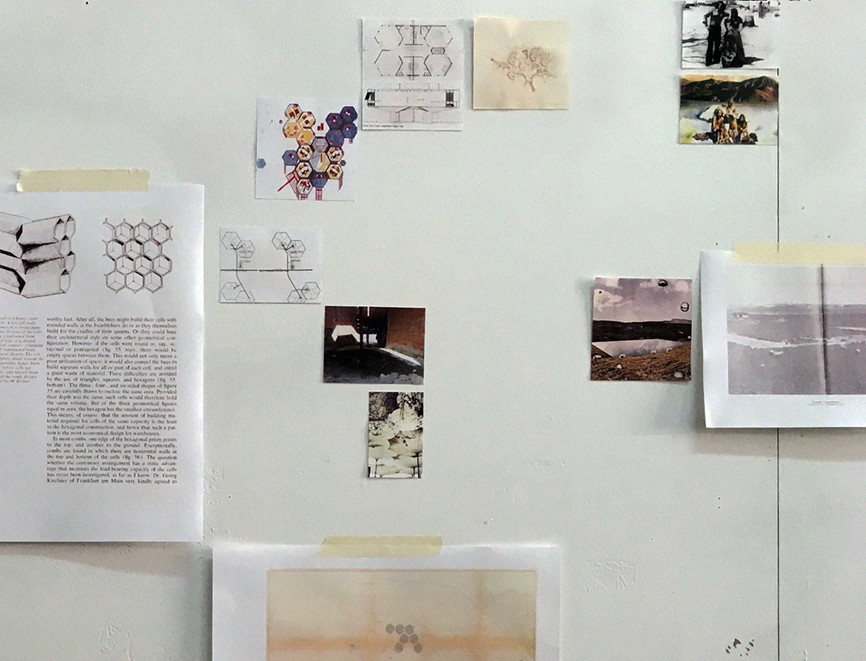 #Allure ## (for allusions) is the public program carried out by María García Ruiz within the V Artistic Research Grant Fundación Banco Sabadell – Hangar.
The project Camps. Displacements of bodies at the limits of form explores the formalization, public imagination and contradictions attached to certain conception of space based on displacement, emerged in the second half of the 20th century in Europe and that continues to affect our present in various ways. To this end, it relates two fields that operate outside the hegemonic space of governance: on the one hand utopia, that is, the radical and experimental architectures of the 1960s and their developments around the idea of mobility; and on the other hand the space of what is marginal, where various singular projects are applied to sedentarize communities whose way of life is based on movement, especially Romani populations, as well as the close relationship that these projects have with the logic of the concentration camp. From this collision of images, concepts and situations, through these topologies and typologies of moving bodies, the difficulties and controversies that arise in architecture when trying to shape a certain spatial quality that has to do with the flows of life are visualized. In the end, what is at stake here, what is questioned by alluding to these spatial paradoxes is the very act of giving (or taking) form to a certain form of life.
In order to activate the materials generated during the investigation, to open up a dialogue on several fronts, the mechanics of allure is proposed. Allure means attraction or charm. In English language it retains the root lure [bait] and resonates in the term allusion, whose Latin root LUD contains the idea of play. Allure as a working mechanism appeals to the capacity of things (images, but also mental images, texts, documents…) to dazzle us by alluding to other things that are not specifically there. It is the poetics of the out of frame, as well as the politics of embodiment in fields that are not one's own, abroad. With this in mind, three exchanges have been proposed that address the question of taking shape from three different perspectives: technique, politics and poetics.
ALLURE #1 (for allusions): Imperfect future. Displacements of the technical imagination with Ethel Baraona Pohl
The future of the past, the radical architecture of the 1960s, is a breeding ground full of relevant references to think about our dystopian present. Since those conceptualizations of space, mobility and hyper-connection with the environment have been human concerns that have materialized in various ways and that perhaps today are being questioned in the midst of the pandemic crisis. In this exchange with Ethel Baraona Pohl we started by understanding architecture as a form of knowledge, and from there to establish a dialogue in its language: the forms, but also the concepts that cross them. With an anachronistic view, not a chronological one, with jumps in time and space, we will try to find the roughness of utopia as a real possibility of technical imagination.
On-site event
Date: December 21, 2020
Time: 18h
Location: Sala Ricson, Hangar
Video here: https://vimeo.com/497397810/e0be5ee9a0

ALLURE #2 (for allusions): Without organs, a political body with Pastora Filigrana and Silvia Agüero
What forms does a political body without organs take? The Roma community is an example in that sense, since it has never aspired to form a state and constantly escapes its structures of subjectivization. It is precisely for this reason, because of their forms of life that resist certain captures by capital and the State, that the Roma people have been untiringly persecuted. Their history is one of constant imprisonment and displacement. Before of being ideological, the history of their resistances is vital. In this dialogue with Pastora Filigrana and Silvia Agüero, we propose to think about all these issues from the standpoint of their radical political thinking and practices, allowing other voices, from different places, to emerge and speak to us about the Romany worldview.https://vimeo.com/500100515
Podcast Launch
Date: December 22, 2020
Time: 18h
Hangar Streaming channel
*With the collaboration of the Romani Musical Playroom of Bon Pastor
Podcast here: https://vimeo.com/500105208/d12bb51d86

ALLURE #3 (for allusions): Police, politics and poetics of bodies in movement with Isabel de Naverán
To think with gestures, between gestures and to think as a gesture, that Marie Bardet would say, is what is proposed in this exchange with Isabel de Naverán. We know that the spaces, through their dispositions, discipline the bodies, make them move in a certain way, behave in a certain way. Architecture is usually the police. For the choreography of power, control of space is essential. But like any discourse, architecture also has its cracks. What are the dissident gestures that slip into that scenario? What kind of space do they produce? Between the displacement and the fixation of certain communities, where do we find the unattached rhythm, the pulse of life that resists being completely trapped? Where does the poetics of moving bodies reside?
Video launch
Date: December 23, 2020
Time: 18h
Hangar Streaming channel
Video here:
Part 1 (Querida Isabel)
https://vimeo.com/500097153/4c5f0d14c9
Part 2 (Querida María)
https://vimeo.com/500100515/2036816c36
—
Ethel Baraona Pohl is an editor, critic and curator. Co-founder of dpr-barcelona, an independent research and publishing studio based in Barcelona, editor of Quaderns d'arquitectura i urbanisme from 2011 to 2016 and member of the editorial board of Volume magazine. Her work can be found in architectural books and magazines, such as Open Source Architecture (Thames and Hudson, 2015), The Form of Form (Lars Muller, 2016), Together! The New Architecture of the Collective (Ruby Press, 2017), Architecture is All Over (Columbia Books of Architecture, 2017), Inéditos 2017 (La Casa Encendida, 2017), Harvard Design Magazine, and e-flux, among others. Among the exhibitions she has curated are Adhocracy Athens (with César Reyes and Pelin Tan) for the Onassis Cultural Center, 2015, which received the ADI Cultura 2016 Award; and Doce fábulas urbanas, currently open at Matadero Madrid (until January 2021). Since 2016, dpr-barcelona is a member of the Future Architecture platform, the first pan-European platform of museums, festivals and institutions dedicated to promoting architecture.
Pastora Filigrana is a Romani lawyer, feminist and human rights activist. Filigrana was born in the Triana neighborhood and at the age of 9 she was already being called "the lawyer of gypsies". Growing up "in a ghetto" brought her a lot of social sensitivity to issues of equality from a young age. She learned about the class consciousness from her grandmothers "by their example of life" and labor law from the Andalusian Workers Union. After participating in the birth of the Association of University Romani Women (Amuravi) when she graduated in Law at the age of 23, she began as a legal advisor to the Romani association Villela Oro Gao Caló in the Seville neighborhood of Las Tres Mil Viviendas, also working with the migrant population. As a lawyer, Filigrana had an important media role in the struggles of the Moroccan strawberry pickers of Huelva during 2019. In 2020, she published the book El pueblo gitano contra el sistema-mundo. Reflexiones desde una militancia feminista y anticapitalista (The Roma People against the World System. Reflections from a feminist and anti-capitalist militancy), in which she maintains that the persecution of Romani people has to do with their forms of community resistance through forms of cooperation and mutual support and their opposition to adapting to the "blackmail of wages".
Silvia Agüero is a Romani activist, feminist and mother. She comes from the radical left. She has been a member of the Andalusian Workers' Union, carrying out numerous political actions, and of Izquierda Unida –Spanish political party–, intervening in politics at the local level in favor of Romani people. She created an intercultural association, directed by Romani people, to promote awareness in a ghetto neighborhood. Together with Nicolás Jiménez she runs the project Pretendemos Gitanizar el Mundo, a valuable archive in process where they create and share a counter-narrative to fight against structural and cultural anti-gitanismo. Their project proposes an in-depth study through numerous scientific, historical and cultural articles, while supporting institutions and associations that fight against the harassment of the romanies. She is self-taught and has experience in a very combative community radio station: Radio Vallecas. She writes regularly for Pikara Magazine, Spain's leading feminist magazine. Recently she has collaborated with the Art Institute HGK FHNW in the cycle Promise No Promises! Feminism Under Corona curated by Sonia Fernández Pan. On Twitter: @kamipnasqo
Isabel de Naverán investigates the crossroads between art, contemporary choreography and performance in curatorial, editing and writing projects. She has a PhD in Art from the University of the Basque Country and is part of the Artea research group. In 2010 she founded, together with Leire Vergara, Miren Jaio and Beatriz Cavia Bulegoa z/b – Office of art and knowledge project to which she remained linked until 2018. Since 2017 she is in charge of the curatorship of live arts (dance-performance) in the Department of Public Activities of the Reina Sofia Museum. Between 2016 and 2017 she was the curator of the dance cycle Elipsiak (Elipsis 2016-2018) in Azkuna Zentroa, Bilbao, and in 2019, together with Julia Morandeira, of Un lugar en el que poder hundirse in Getxo, her hometown. The concern for time underlies her research, from her doctoral thesis on the production of cinematographic time in expanded choreography (2010), to current projects focused on body transmission and the revision of the concept of historical time from ephemeral and fugitive practices. She is currently developing the project Envoltura, historia y síncope (Wrap, history and syncope), which compiles and expands on the aforementioned research.
With the support of: