The Zone. Expanded reading of the novel "Roadside Picnic"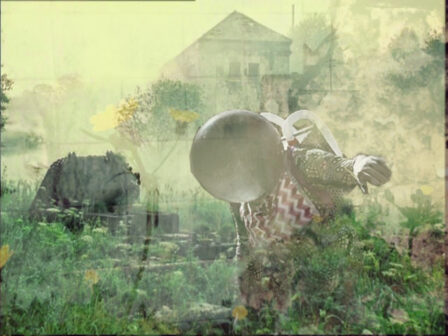 Paula Bruna proposes a collective reading session of The Zone. Expanded reading of the novel Roadside Picnic. An outdoor activity that is part of the program Ficciones del des-orden.
Despite being written long before the term "post-humanism" emerged, Roadside Picnic (Arkady and Boris Strugatski, 1972) reappears as a reference for the contemporary philosophical currents of new materialisms, speculative realism and post-anthropocentric thought. The introduction of non-human perspectives and realities beyond human understanding, and the autonomous existence of objects that relegates humans to a secondary plane, fits perfectly into the context of the so-called post-human turn.
Taking advantage of the alienated gaze resulting from confinement and the desire to discover an environment that is still foreign to us, we invite you to become Stalkers for the Zone, an open-air space in the vicinity of Hangar. We will experience the transit through a para-anthropic world, where nothing has to do with us and everything must be speculated. We will take advantage of the exceptionality of the unknown order to transgress the limits of the imaginable of our conventional order. And from there, from the freedom of thought and the energy of desire, we will share everything that the Strugatski brothers' novel invokes in us, we will talk about Tarkovski's film version and the connections with Solaris (Stanisław Lem, 1976) and we will debate the themes that are pointed out in these masterpieces and how they challenge us today: technology, science, utopias, speculated realities, non-human points of view, new narratives of objects, consequences, fears, desires and happiness. As much as you like.
Date: December 17, 2020
Time: 4 pm
Meeting Point: Hangar (Ricson)
Space: Hangar – surroundings
Free activity
Registration is required using the form below.
Paula Bruna's artistic research stems from the study of the conflict between a society based on economic growth and the limited nature of the medium that sustains it. Taking as a reference concepts of ecology, sustainability and ecological economy, Paula is interested in the games of tensions between society and the environment and the process of collapse in all its phases (from the instability of equilibrium prior to the post -colapso scenario). In her installations she uses everyday elements to represent and investigate these issues in the form of visual poetry. In her latest projects, she investigates the conformation of the anthropocene narrative from a non-human point of view, in a broader ecosystemic conception exercise.
This session is part of the Ficciones del des-orden programme.