Speculative design. By The Institute for Postnatural Studies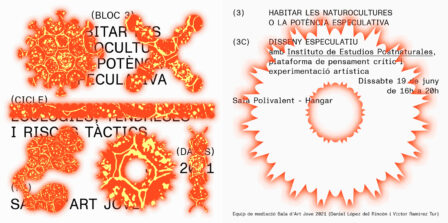 Today, more than ever, we need to understand nature as a political and complex subject that can no longer be romanticized. The way it has been represented has given rise to the dichotomy between nature and culture. Let us design by displacing the human being from the center of our theoretical and practical approach, forgetting about social, ergonomic or anthropocentric modes of production. How can we design for a non-human entity? What kind of needs do we respond to when we design for or with a forest, a river or a hummingbird? Let us break new ground to speculate on desirable futures of coexistence.
Practical information
Date: June 19, 2021
Time: from 4 to 8 p.m.
Venue: Sala Polivalente, Hangar
Registration: artjove.tsf@gencat.cat
The Institute for Postnatural Studies (IPS) is a center for artistic experimentation from which to explore and problematize postnature as a framework for contemporary creation. Founded in 2020, it is a platform for critical thinking; a networked place that brings together artists and researchers concerned about the issues of the global ecological crisis, through exchange formats and artistic production. In this way, the IPS aims to become a tool for transformation by offering new approaches to artistic practice in all its formats, from exchange, curatorship, publishing or production. All this is carried out through the production of theoretical material, artistic residencies, its study program, meetings open to the public or collaborations with other agents.
This workshop is a curatorial proposal by Víctor Ramírez Tur and Daniel López del Rincón within the mediation program Ecologies, tendreses i riscos tàctics de Sala d'Art Jove 2021 and intersects with Hangar's Ficciones del des-orden program.