Soundtracks for experimental films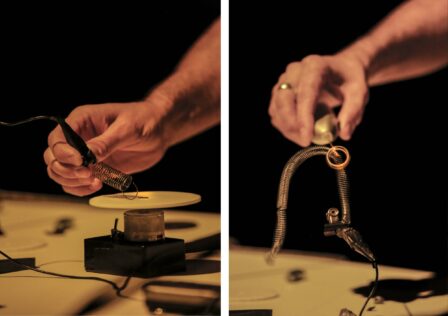 On July 10, from 10 am to 2 pm and from 4 to 8 pm, the collective in residence Crater-Lab will give the sound workshop Soundtracks for experimental films.
For many artists, celluloid is the best support for all kinds of explorations between concept, abstraction or subjective poetics, since it offers infinite possibilities of experimentation, not only in the visual, but also in the sound, providing its authors with total control of their work.
But although quite a few experimental filmmakers also make their own soundtracks, in many cases, sound is relegated to the background for lack of sound sensitivity: finding the right sound for an existing image can be just as complex as finding an image for a previously existing sound, and in the same way, creating the soundtrack for a film can be just as captivating and intense an experience as creating the images that compose it.
Experimental practices in film constitute the ideal context for including abstract instrumental music that can be coupled to visual explorations, thus revealing its enormous potential as a pattern for structuring filmic events in time; thinking images through sound implies the search for consonances whose relationships are developed cinematically, addressing both the eye and the ear.
Opening possibilities to create soundtracks will be the purpose of this workshop.
With an abstract approach to sound, we will work on sharpening our perception from musical instruments, homemade devices or any kind of sound production source, to create sonic strategies that can be integrated into a future soundtrack. We will also analyze the importance of sound in experimental cinema and some of the possible relations between sound and image, narrative or abstract; passive relations, by contrast or by superposition and their direct or indirect incidence in the coherence with the images.
The workshop will be divided into three parts:
First part (theoretical).
– Brief introduction to the recent history of experimental music and sound art.
– Projection and analysis of experimental films in which sound has a primordial importance.
– Analysis of notions such as listening, noise, silence, experimentation, time, etc.
Second part (theoretical-practical)
– Brief sample of homemade electro-acoustic devices: small motors, contact microphones, resonant objects, basic amplification, etc.
– Approach to sound practice: use and new approach of the participants' devices and instruments.
Third part (theoretical-practical)
– Oriented creation of possible live soundtracks for existing silent films, practice close to that of expanded cinema.
– Analysis of the different proposals.
Remarks
It is not necessary to have musical knowledge.
Essential condition to participate in this workshop: each participant must bring an instrument or any source of sound production (such as objects to amplify, pre-existing sound devices or playback devices such as radio, tape recorder, Ipod, walkman, etc…), with its corresponding connector and amplification, if applicable.
Practical Information
Date: July 10th
Time: from 10 a.m. to 2 p.m. and from 4 p.m. to 8 p.m.
Place: Hangar
Price: 50 €.
Participants: maximum 12 people
Language: Spanish and/or English
Registration: info@crater-lab.org
Workshop given by Alfredo Costa Monteiro