How to fall in love with a place? A storytelling session by CampoBase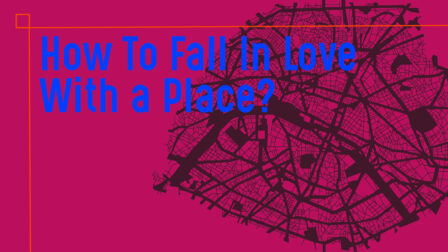 He had had so much difficulty in feeling loved by another human being that he had decided to put his desire for love in a city. He had lived a long and conflicting relationship with New York, had fallen in love with Paris, had been briefly conquered by Barcelona, intensely subjugated by Athens. But he had decided to have a new romantic relationship with Venice. He had found a small apartment at the end of Fondamenta Nove […] As he traveled the north end of the island, floating on the lagoon like a boat of immense size, he had thought that this city resembled his trans body: half water and half earth, constantly changing, unstable, at the same time vulnerable and strong, a fictional, ridiculous and incredibly tragic body.
P. B. Preciado, Promenade à Venise, 2019
On January 30, at 7pm, CampoBase, the collective resident of the Encura IV grant, will present How to fall in love with a place?, a meeting in which participants will be able to narrate their love affair with a city, a neighborhood, a road, a car park or a location and thus reflect on the emotional ties that people establish with places.
Have you ever fallen in love with a place? Where is it? Is it a warm space, or perhaps a cool one? How is your mood when you are there? Is it vast and immense, in which you get lost when you cross it? Or small and cozy, and it makes you feel like you're at home? Have you ever wondered what triggers this process and what its transformative power is?
In view of House of Displacement Barcelona, a festival that aims to inhabit – in a paradoxical way – the contemporary condition of displacement, CampoBase begins to orientate itself by organizing a reconnaissance of places, analyzing how they can become "dear places" for emotional, intellectual, physical, geopolitical reasons. CampoBase intends to open up and share its research to the public, by promoting the use of discursive practices that encourage involvement and dialogue. Storytelling is a tool for community building, community engagement and for sharing of practices and visions. Starting from personal experiences, the narration creates the conditions for the production and emergence of meanings that, stemming from a personal level, can represent general and shared values.
To participate as a narrator write an email to campobase18(at)gmail(dot)com explaining the place you would like to tell during the event. There will be a projector and a sound system, so you can bring objects, sounds and images.
Registration is free of charge.
The event will take place at Hangar's Set.
With the support of: