Paratext #41 with Lucía Egaña i Alán Carrasco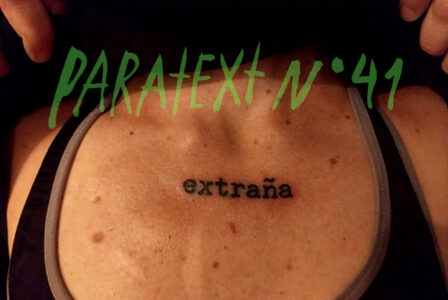 This name, Paratext, hides a monthly schedule of presentations of artists residing in Hangar of long and short duration, as well as international residencies. In it they present, in different formats, specific projects or parts of their work. The sessions are always open to the public with the purpose of enabling interaction with the artists themselves. In addition, each Paratext has an editor who later publishes his or her impressions of the presentation on this blog. On this occasion the editor will be Nancy Garín.

The next Paratext session will take place on Wednesday January 29, at 7 p.m. in the Sala Ricson of Hangar.
Projects will be presented by:
Lucia's work can be considered bizarre, scavenger and hybrid, and can be understood as a positioning, an activity (discursive-creative), a methodology and devices that take on different forms. Experiments that go from informal pedagogies (a workshop in a community centre for example) to the publication of a text (in press, books, fanzines or in a blog), from the accomplishment of manual activities (collage, crafts) to the practice of domestic witchcraft (tarot readings or rituals), or even videos or installations in their most larval stage.
Some of his work has been aimed at explaining the importance of opening up codes, explaining why it is necessary to know how a creative / political / cultural process is constructed and question the implicit logic behind the presentation of final products which conceal the procedures that made them possible. The opening of codes is linked to free software, which uses as a material tool (computer and applications), as well as epistemic and political model (ways of working). "In this sense, it does matter how I do what I do and with what work to talk about what I speak, and how what emerges from these processes maintains a relationship overlaped with contexts, materials and people." It is inevitable to mention feminisms as the engine of these processes.
Alán Carrasco is a visual artist, doctoral researcher and editor of Situaciones -a history and art criticism magazine. He is currently carrying out his doctoral research in the PhD programme in History and Theory of the Arts at the University of Barcelona and in the History of Architecture programme at the Brandenburgische Technische Universität, in which he analyses the concepts of iconoclasm and collective memory, based on the socio-political events that range from the frustrated Spartakusaufstand of 1919 to the fall of the Berlin Wall in 1989.
He also develops several lines of research in his artistic production, focusing especially on the redefinition of the concepts of iconoclasm, political violence, historical narrative and collective memory in the time frame of the "short 20th century".
His work has been exhibited at the MACBA Museum of Contemporary Art in Barcelona, at the 2nd Lima Photography Biennial (Peru), at the Ch.ACO Contemporary Art Fair (Santiago, Chile), at the Fabra i Coats in Barcelona, at the Württembergische Kunstverein in Stuttgart (Germany), at the Spanish Cultural Centre in Lima (Peru), at Espacio en Blanco in Monterrey (Mexico), and at Arts Santa Mònica in Barcelona, among others. He was recently awarded the ArtNou 2019 prize for the exhibition "A Soviet militiaman eats a McDonald's hamburger in Moscow", presented at ADN Galeria.
Image: @grafiasdelpellejo during the residence with val flores in Subnormal Methodologies.
Supported by: