Unresolved pieces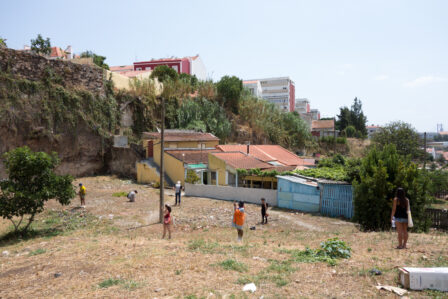 Unresolved pieces is a workshop given by Catarina Botelho that is part of the educational program Extreteixides, a collaboration between the Centre Cívic Can Felipa, Hangar and La Escocesa.
In times of global pandemic we live even more in uncertainty. We move with a certain strangeness through a gap between that previous life that we no longer have and another that we await its arrival.
More than a few of us carry around discomforts, worries, fears or anxieties; all too often we do so alone, in these big cities where spaces and times for real encounters are scarce.
In these cities defined by production and consumption, wastelands appear as interruptions, the last spaces of freedom. These fragments of collective unconscious form a limbo, without rules or hierarchies, open to different possibilities of existence.
Places of (re)invention that perhaps can serve us at this moment, as spaces of welcome to what we carry inside and we have nowhere to put.
This workshop will try to be a space for thought, exchange and reflection on how we have lived this last year, having as a starting point an incursion into the wastelands of Poblenou.
Sessions
1st session
Date: Friday, April 9th
Time: from 4 to 8 p.m.
Presentation/conversation – The wasteland as a space of possibilities
Walk through the wastelands of Poblenou (North of Diagonal Mar, between Fluviá and Puigcerdà).
Collective reading and commentary of confinement and pandemic diaries.
Collection or capture of images and objects.
2nd session
Date: Saturday, April 10
Time: 11 a.m. to 2 p.m.
Venue: Sala C. Cívic (Can Felipa)
Post production and printing of the images made in the previous session
Organization of the objects collected.
Writing exercises – experiences of a pandemic.
Sharing in common.
3rd session
Date: Saturday, April 10th
Time: 4 to 7 p.m.
Venue: Sala C. Cívic (Can Felipa)
Construction of a pandemic object, box or book containing the materials generated during the workshop
Catarina Botelho is a resident artist at La Escocesa.