Algorave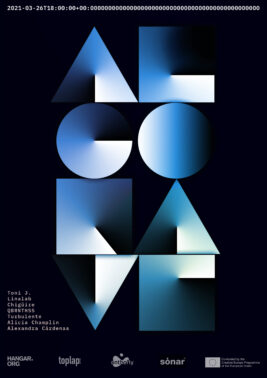 On March 26th at 6 pm, Hangar hosts an Algorave, a visual and sound algorithmic festive event co-organized by Sónar Festival and On-the-Fly — a European project led by Hangar — within the framework of VIU festival.
The Algorave, a term originally coined in 2012 by Alex McLean and Nick Collins, is generally executed through live coding, writing and modifying algorithms in real time with the computer as the physical interface. Its practice has spread to include, for example, patch modifications or interactions between electronic devices and code. Influenced by the hacker philosophy, in particular by the "open source" concept, the audience's attention is divided between the music and the code that is displayed and that allows the programming process to be observed. This is why, in essence, an Algorave has a strong improvisational component, is alive and likes to take risks and explore limits.
The session will be on site and streamed.
The performers that will play in the framework of this co-production are:
Alexandra Cárdenas
Alexandra Cardenas' work focuses on the algorithmic behavior of music and the exploration of musicality within code. She is a core member of the international live coding and algorave community and performs worldwide using the live coding platforms SuperCollider and TidalCycles. Alexandra studied composition at Universidad de Los Andes in Bogotá, Colombia, and later completed a Sound Studies Master's Degree at Universität der Künste, Berlin, where she has lived since 2013.
Alicia Champlin
Is an American intermedia artist and researcher from Maine, based in Barcelona since 2017. She works primarily with generative systems and sound, using installation and performance to explore aspects of agency and embodiment, with past exhibitions in Austria, Norway, the United States and Spain. Frequencies, resonance and feedback – especially biofeedback – are favorite tools. Champlin also plays the bow chime, sometimes with EEG augmentation. Relatively new to live coding, she is experimenting with the intention of playing in the space between indeterminacy and predictability.
Chigüire
Hailing from the valley of Caracas, Venezuela, Chigüire is the nom de guerre of Jesús Plasencia, a multimedia artist interested in the dialogue between humans and machines. Although they have spent much time using computers as a crude tool to earn money to survive, he found a calling in live coding and computer art in general. Despite being one of the newest participants of TOPLAP Barcelona, they quickly found a home there, and a place to grow in the art of making computers draw and sing, with the hopes of someday getting them to tell us their secrets.
QBRNTHSS
QBRNTHSS (pronounced "quebrantahuesos", meaning "bearded vulture" in Spanish) is the alias that Ramon Casamajó, musician and computer scientist, uses for his solo works focused on electronics and live coding. As QBRNTHSS he released a split LP (Harry Dean Stanton, Call It Anything Records 2019), and is actively involved in the TOPLAP Barcelona collective. He has participated in online events hosted by the international TOPLAP community. He is part of Turing Tarpit, a duet with whom he has released several works and played regularly in Barcelona's experimental underground circuit. He also runs the micro record label Call It Anything Records.
Linalab
Linalab is a multiple singularity. It's a whole and a unity, a solitary sound, and a note. A frequency that remains in time to become more complex, to become entangled, to become noise; melody, song and then silence. Linalab does not only exist on stage. Besides playing at numerous events and festivals, she also understands music as an ongoing process of investigation. She is a producer for the Synth Vicious record label; plays an active role with TOPLAP Barcelona and creates electronic sound devices with Familiar DIY.
Toni J
Toni Jaume is a digital artist, developer and creative programmer interested in generative processes, with a special interest in computer graphics. His research processes about metalanguages and new paradigms are the common thread that is reflected in his interactive pieces and installations that often focus on the language of videogames as a way to consolidate an understandable discourse between the observer and the concept. Through live coding, he explores new ways to elevate creativity to an exponent of constant creation in which improvisation derives generative graphics in a constantly changing world that draws on the concepts of fractality.
Turbulente
Also known as Citlali Hernandez, her work investigates the implications of the body and the use of new technologies in the arts. She has presented some of her projects in various spaces and festivals such as: CCEMx (Cd.Mx), CMMAS (Morelia), GAM Cultural Center (Santiago de Chile), L'Estruch Cultural Center (Sabadell), SALA OFF (Valencia), JustMAD Contemporary Art Fair 15 and 17 (Madrid), ECOSS Festivals 18 and 19 (Barcelona).
She is currently involved in university teaching, is a resident artist at Hangar, the open center for research and artistic production, and holds a doctorate from the University of Vic and BAU, University Design Center of Barcelona. She is also an active member of the Live Coding collective TOPLAP_Barcelona.
The Algorave will follow its community-sourced guidelines.
Practical information
Date: March 26th
Time: 18 h
Venue: Sala Ricson, Hangar. c/ Emília Coranty, 16.
The event is fully booked. You can join the waiting list in this form.
Algorave will be broadcasted live here.
The event is part of the European project On-the-fly funded by the Creative Europe Program.
Co-organized by:

Supported by: