La noche: live coding / Pecha kucha express y live coding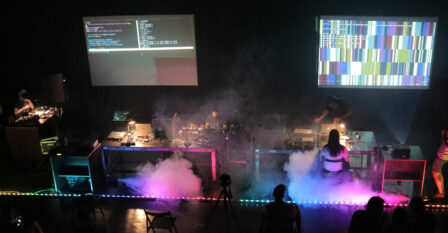 On June 11th On-the-fly, the European project led by Hangar, takes part in the Biennal Ciutat i Ciència with two proposals: La noche – Live coding and La noche – Pecha Kucha express & live coding.
In the first meeting, La noche – Live coding, Iván Paz will be in charge of a live coding performance, with the visuals of Toni J. Live coding is a performative technique, a form of performance art and a creativity technique focused on writing source code in real time and the use of interactive programming. It is a new direction in electronic music. It is improvising and formalizing in public.
The live coders expose and modify in real time the software generating music or images, while the manipulation of the code is projected so that everyone can follow the process of creation.
The second meeting, La noche – Pecha kucha express & live coding, will consist of a double activity that will combine performance, art, science and technology.
The first part consists of a battery of pecha kuchas, quick presentations in an informal context that make it possible to see many projects in a direct, simple, fast, agile way and establish connections with other similar projects. The first Pecha Kucha will be attended by Joana Moll, Elisabet Romero, Mario Santamaria, Pedro Gómez, Mónica Rikic and Samuel Sánchez. In the second one, Martí Ruiz Carulla, Maciej Lewenstein, Eloi Maduell, Antoine Reserbat-Plantey, Anna Carreras, Reiko Yamada will take part. Both Pecha Kuchas will be moderated by Carolina Jiménez.
As a closure, the second part will be a live coding session by Roger Pibernat, Citlali Hernández Turbulente, Anna Carreras and Lina B Linalab.
Practical information
Day: June 11
Time: 20 h
Place: Plaza Comercial
Type of event: in person with previous registration
+ info La Noche – Live Coding
+ info Pecha Kucha express & live coding

Con el soporte de: