Reading diaries together in hidden places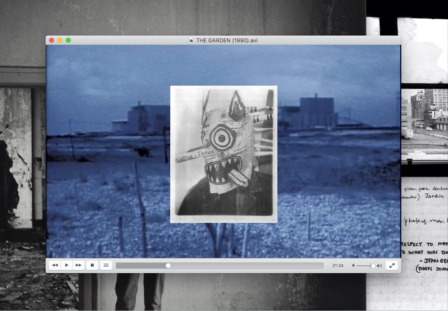 Everything is fragmentary, nothing is clear, it is a matter of reading the signs and codes and seeing the moving evidence buried in the shadows.
In the Shadow of the American Dream, by David Wojnarowicz, and Modern Nature by Derek Jarman, are diaries in which the artists capture memories of their lives and recount their last years in which HIV crossed their lives. Reflections on their childhood, anecdotes of militancy and their political struggle, delusions of the night and drugs, sex and friendship, love and drugs, hospitals and doctors, confessions about their artistic practices, postcards of London and New York landscapes in the 70s and 80s, wild gardens and nuclear power plants, ailments and despair, secrets and fear of death.
The queer body and liminal territories, with their ecstasies and vulnerabilities, intersect in both books. Their different types of writing dialogue without knowing each other, and resonate in our present, making possible other practices of memory.
What is it like to write a diary when you know you are going to die? How to rescue the experiences of radical freedom of other forms of life, art, love and freedom that disappeared with the HIV/AIDS pandemic?
With the help of artist in residence Agustín Ortiz Herrera, we propose an afternoon of appointments between strangers to read diaries together. We will look for a remote and wild place in the city where the end of nature and the end of the city meet. We will intertwine words, gestures and sunsets, we will whisper and stroll aimlessly, we will plant flowers where they cannot grow, we will make graffiti that will stand as memorials, and we will dance in silence toasting to our dead and our dead.
Practical Information
Date: Sunday, July 18, 2021
Schedule: from 7:30 pm to 9:30 pm
Activity for 10 people, under previous selection
Place: the day before the meeting, an email will be sent with directions and the meeting place.
It is not necessary to have read the books before to participate in the activity.
Registration: here
More about Agustín Ortiz Herrera
Agustín Ortiz Herrera's artistic practice is developed in the fields of audiovisual, performance and installation. He uses these media to activate queer possibilities in a patriarchal-colonialist context nurtured by the dominance of audiovisual persuasion and the normative representation of memory. Ortiz Herrera is interested in a research and knowledge creation approach that works on the semantic possibilities of narrative audiovisuals in combination with experimentation on installation configurations. His recent works have developed a critical spirit dedicated to deconstructing notions about historical patriarchal figures as in his recent artistic research project: Naming. Possessing. Critique of the taxonomic practice (Beca Barcelona Producció La Capella 19/20), in which she investigates the patriarchal, colonialist, white and European roots of the natural sciences.
This activity is part of Hangar's Ficciones del des-orden program and is organized together with Caja Negra Editora.