Fringes of Obscurity. Robert M Ochshorn, in conversation with Rubén Grilo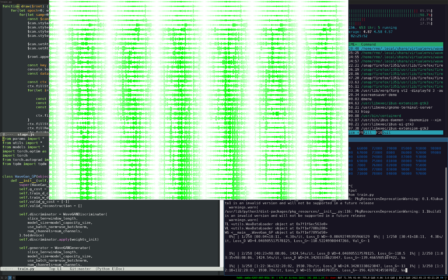 Fringes of Obscurity; where obscurity is at the center and its fringes are the elements with mass appeal.
Next Monday, May 30th, at 6 pm, Robert M Ochshorn will give a presentation in Hangar to introduce us to his latest works and research, addressing deep learning, AI, digital life and digitization of life, free software imaginaries or platform capitalism as leak and turning points. This activity is related to his recent collaboration with artist Rubén Grilo, with whom he has been working for the development of his exhibition Erres, at Lo Pati-Center d'Art Terres de l'Ebre in Amposta, curated by Marc Navarro, based on speculation and the possibility of teaching artificial intelligence to bark.
Following his presentation, there will be an open conversation with Rubén Grilo and Hangar's community.
Date: Monday, May 30, 2022
Time: 18:00
Venue: Plato Room (entrance by Polivalent)
Free entry
Language: English
Robert M Ochshorn is a software engineer, cultural theorist, and media researcher based in San Francisco. He develops unusual digital interfaces to observe and activate sound, video, and language. He is interested in how new communication tools enable new social practices, and vice versa. Ochshorn is co-founder and CEO at Reduct.Video
More info:
http://rmozone.com/
https://zkm.de/en/robert-m-ochshorn-screen-dreams
https://zkm.de/en/robert-m-ochshorn-biography
https://app.reduct.video/lapd/walk-the-talk/
https://hyperallergic.com/584163/walk-the-talk-los-angeles-poverty-department/
Rubén Grilo lives and works in Berlin. He has exhibited his work in institutions and spaces such as Union Pacific (London), Espai 13 of the Joan Miró Foundation (Barcelona), Kunstverein Hildesheim (Germany), CA2M (Móstoles), CIRCA Projects (Newcastle) and La Casa Encendida (Madrid). He has been a resident artist at Gasworks London and has received a scholarship from the Botín Foundation, Generación 2017 and the ARCO award from the Community of Madrid. His latest solo exhibitions have been Lasers and HowTos at the Future Gallery in Berlin or Indigo Eye at CentroCentro in Madrid.
*Image: Robert M Ochshorn's desktop screenshot showing a grid of waveforms as his computer "learns" to mimic the sound of dogs barking.
This activity is part of the European project Arc-hive.