PRACTICABLE 3_'Dance Gathering' by Alice Chauchat + Hidrogenesse Djs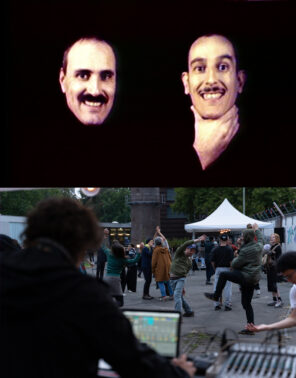 On Saturday 18 March at 7 p.m. Alice Chauchat presents the open-air party Dance Gathering. Alice is a Berlin-based choreographer who is interested in how people and local communities can dance together. She offers new social dances that come from working with improvised dance.
The dances are simple and can be danced by anyone. They provide a framework for dancing together, rather than focusing on steps or sequences of movement. The dances are like stories that we role play through dancing: gift-giving communicating telepathically, meeting our doubles in a parallel universe…
We call the party Dance Gathering. To prepare for the party we will have 4 meetings where we will learn the dances, dance together and make sure that everyone feels comfortable with the dances so that they can invite others to dance with them. The meetings will be on Tuesdays and Thursdays, the 7th, 9th, 14th and 16th of March, from 7pm to 9pm. The party will take place on Saturday 18th March at 7pm at Hangar / Can Ricart.
This is an exchange: we will teach you the dances and you will give us your time. And we all share the joy of dancing together.
In addition, the electronic pop duo Hidrogenesse will collaborate as DJs, presenting a session specially designed for the day to accompany the progressive group choreographies. This is not a typical DJ session, but the creation of an atmospheric and dynamic style that will allow the tunes to transform and change register through the collective energy patterns generated by the dances. What is proposed is a mixture of sounds and songs that will lead to changing body situations, the opposite of a concert dynamic where it is the dances that mould and adapt to the music.
Alice Chauchat, based in Berlin, works as a choreographer, dancer, assistant, teacher, and mentor. Collaboration (and thereby the negotiation of distance, otherness, decentring, etc.) has been a recurring reality and a growing concern in her work. This ongoing research produces a collection of scores, choreographic concepts and performances. It takes place in dance studios, on stage, in urban space and in text form. Her interest in ways of sharing situations, artistic responsibility or means of production and discursive tools led her to participate in setting up the open collective Praticable, developing the Everybodys internet-based active archive project, or the PerformingArtsForum in Saint-Erme, France. From 2010 to 2012, she co-directed Les Laboratoires d'Aubervilliers, an artistic research centre in the suburbs of Paris. From 2013 to 2016, she facilitated the Teachback programme for dance and pedagogy research with Jennifer Lacey at ImpulsTanz Vienna. Alice currently teaches for many educational programmes, institutionals and self-run, across Europe.
Practical information
Languages: We can mix languages (Spanish, English, French, Catalan)
Date: Four rehersals on Tuesdays and Thursdays: March 7th, 9th, 14th and 16th. The party will then take place on Saturday, March 18th.
Schedule: 7 – 9 pm
Place: Hangar
Registration: until 28th February in this link.

This call is a part of the Practicable research line.
Image: Aaron Williams