Dido by Paula García-Masedo in Creació i Museus 2023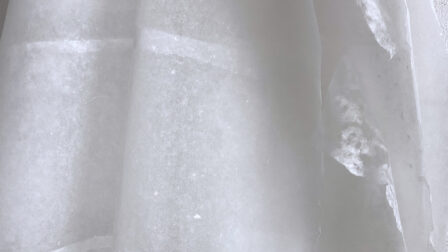 Hangar collaborates with the Museu del Disseny as part of Creation and Museums 2023, a pairing programme promoted by the ICUB that brings together resident artists from the city's creative factories with museums and cultural institutions in Barcelona. For this edition, the artist in residence, Paula García-Masedo, will present the installation Dido, a new work that can be seen at the Museu del Disseny from 22 June to 2 July as part of the Festival Grec.
Dido is based on a tapestry from the Museu del Disseny's collection, 'Queen Dido', woven in Brussels around 1500. With an almost architectural dimension, Dido takes on the role of an outstanding element of Western material culture, a tapestry, a portable architecture. As a boundary between the body and what lies beyond, the piece allows us, through the event of an encounter with it, to think and feel this boundary as something that makes concrete forms of habitation and is embedded in specific genealogies.
Dido proposes a physical encounter with some of the materials that make up the tapestry or its iconography. Constructed with antique linen rag paper, it establishes a link with the territories where the material comes from and the cultural and productive assemblages that have intervened in its history. Its mode of production takes up the traditional, overflows it and redirects it into large, thin cloths on which the traces of the work of their production can be read. The material is affected by the forces present and takes on the form and expression of its internal configuration.
The original tapestry depicts the myth of Dido, the founding queen of Carthage, who commits suicide after being betrayed by Aeneas, the founder of Rome. Dido and Aeneas are accompanied by floral iconography: carnations, strawberries, violets, narcissus and other flowers, allegories with multiple meanings that express the intense connection with the non-human world in the Middle Ages as well as Christian messages. At the same time, the myth depicted refers to the system of patriarchal-colonial oppression that is still in force.
In collaboration with the Museu Molí Paperer de Capellades.
Paula García-Masedo will give a guided tour of Dido on Saturday 1 July at 1 pm.
Registration here.
Acknowledgements: Pense, Victòria Rabal.
Graphic design: Kentaro Terajima.