Escuelita popular de ciencia, arte y tecnología para niñas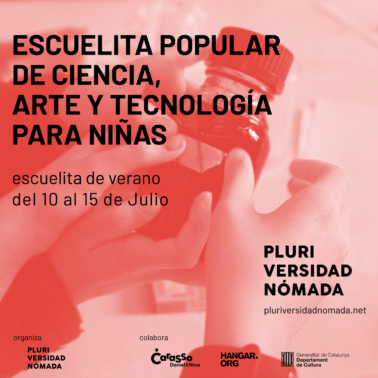 The Hangar Wetlab hosts the Escuelita popular de arte, ciencia y tecnología (Popular School of Art, Science and Technology), a free course run by Pluriversidad Nómada for girls between the ages of 9 and 12. This edition, divided into 6 sessions, will include the participation of Ce Quimera, Lucía Egaña, Tatiana Avendaño, among others.
Programme
July 10: Arriving at the laboratory
July 11: Magic, spells and potions. Seeds and masks
July 12: Electronics and how to make noise with things
July 13: How things get tangled up
July 14: Tales of the past, present and future
July 15: Open Doors, we'll tell you…
Priority will be given to migrant and racialised girls.
Registration at: info(at)pluriversidadnomada.net with the subject: escuelita popular.
Registration from May 22nd to July 1st.
All activities will take place in the Hangar Wetlab (Gate P).
Schedule: from 9 am to 1 pm
In collaboration with the Fundación Daniel y Nina Carasso, Generalitat de Catalunya and Hangar.