Experiments for a single projector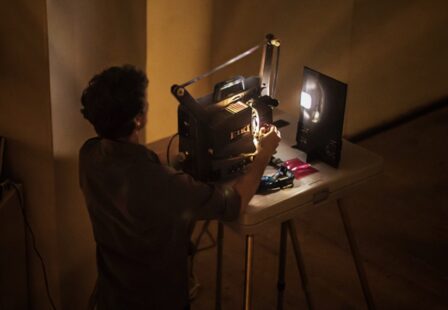 As part of SPECTRAL's activities dedicated to Expanded Cinematic Arts, Crater-Lab presents Alex McEnzie's performance Experiments For A Single Projector.
Experiments For A Single Projector (Alex MacKenzie, ~ 60 min) explores the potential of 16mm film. Expanding on the possibilities of this refined and precise tool, this work utilises the mechanism to its full potential, manipulating, modifying and enhancing various aspects of its functionality. Found footage, painted film strips and light are transformed through beam interference, bi-pack loops, changes in focus, lens and shutter to create dreamlike and radically transformed spaces: epic, immersive and abstract. The results shimmer across the screen, uniting "the cosmic with the microscopic… in an ecstatic splendour of light" (Marilyn Brakhage).
Practical information
Date: 28 July
Time: 8 pm
Venue: Hangar, door T
Price: 6 €.