Arxius Oberts #1 – Digital rights and licences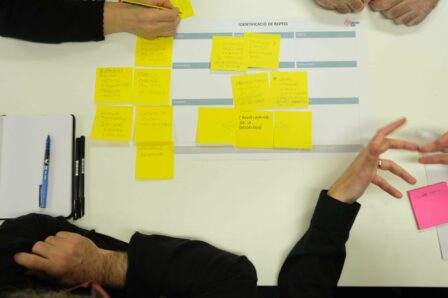 Arxius Oberts returns in 2023, opening the year's programme with a monographic session on copyright and digital licensing.
What should I consider if I want to re-use or make available online an image or video from an institutional or community archive? Who do I ask for permission if I'm not sure who owns the copyright? What content is in the public domain? What do I need to license a work under a Creative Commons licence? What should I do if I see one of my creations being used illegally?
All these questions and more will be answered at the session on Friday 9 June from 11 am-1 pm at Hangar.
The event will be attended by Eva Sòria Puig, Director of Innovation, Knowledge and Visual Arts at the ICUB and Doctor of Law, and Patrícia Riera Barsallo, lawyer specialising in copyright and lecturer in Intellectual Property at the UOC.
The occasion will also be used to update participants on the state of the Arxius Oberts platform and to present the programme's plans for 2023 and 2024.
The agenda for the day is as follows
11 – Institutional welcome
11:10 – Public presentation of the Arxius Oberts Platform and state of the project
11:25 – Introduction to copyright and digital licensing issues in the field of digital culture (Eva Soria)
12:00 – Analysis of practical cases of copyright licensing in the digital environment (Patricia Riera)
13:00 – Questions from the audience, with interventions from row 0
13:20 – End.
If you wish to attend, please register in advance.
Arxius Oberts is a Cultura Viva programme coordinated by BitLab.