Quantum Random Number Improvisation Concert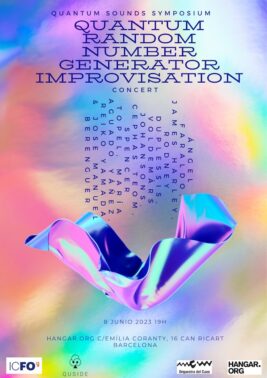 On June 8th, the Orbital collective Orquesta del Caos organise the Quantum Random Number Improvisation Concert at Hangar, as part of the Quantum Sounds Symposium organised by the ICFO from June 6 to 8.
At the heart of this unprecedented musical experience lies a live-streamed quantum random number generator by QUSIDE. It will generate unpredictable and truly random numbers in real-time, serving as a unique source of inspiration for the participating musicians.
As an introduction, a joint lecture by Ángel Faraldo (composer and performer) and Carlos Abellan (QUSIDE) will take place at 7 pm. The performance will start at 7:30 pm.
Joint Lecture Looped in the Sound of Photon
Ángel Faraldo (composer, performer) and Carlos Abellan (QUSIDE)
Quantum Random Number Generator Improvisation Concert
Ángel Faraldo
James Harley
Rodney DuPlessis
Voldemārs Johansons
Cephas Teom
Spencer Topel
María Aguado Yáñez
Reiko Yamada
Jose Manuel Berenguer (sound diffusion)
Generator technician: Jose Ramon Martinez (QUSIDE)
Practical information
Day: June 8
Time: 7 pm
Place: Sala Ricson, Hangar
Free entrance