Rarefacció 4: Emav presents Chill Ness + Sankki + Vallès Muerto + Basilisque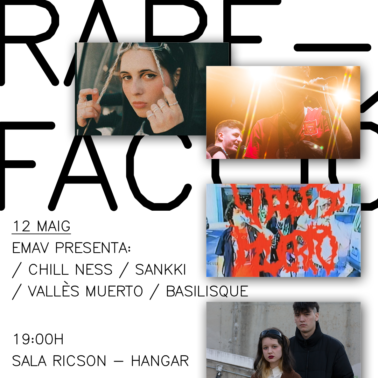 On May 12th, Hangar presents the fourth session of this year's edition of Rarefacció, a listening cycle curated by Sergi Botella that is part of the Audio Formal/Politics of Listening research line and aims to present proposals revolving around music and sound from an experimental and unconventional point of view. The guests for this session come from Emav (Escola de Mitjans Audiovisuals Barcelona), which presents Chill Ness, Sankki, Vallès Muerto and Basilisque.
Emav presents: Chill Ness + Sankki + Vallès Muerto + Basilisque
Date: May 12th, 2023
Time: 7 pm
Venue: Sala Ricson, Hangar
Price: € 9 + drink
Entradas aquí
Chill Ness
Chill Ness is Inés Fojo Galimany's urban music project that incorporates styles such as trap, hyperpop, lo-fi and techno, always with an experimental touch. The songs talk about love, heartbreak, sex and drugs, and despite the nostalgic lyrics in some cases, they maintain a positive and flirtatious aura, playing with auto-tune and voice distortion effects.
Sankki
For Rarefacció, Sankki will present projects from the last two years, including songs by Los Reyes del Dolor, Punt Meets, Feelin Cute Right Now o Irrational Lovers. With collaborators such as R Ballin and Cittoplasma.
Vallès Muerto
Vallès Muerto is a group formed by three people from Vallès Occidental. The group was born with the EP Apartment, a conceptual trap EP inspired by an unfinished experimental sitcom written by the members. The whole EP samples an unfinished post-dubstep album, also created by the members. Vallès Muerto is a trap project with a punk spirit, nourished by the need to combine musical experimentation with more mainstream genres.
Basilique
Madrid-based duo Agnès Hayden and Jorge Ramírez navigate dark electronic music mixing genres such as witch house and techno.
Supported by: