Rarefacció 2: Paralaxe Editions presents Dania x Valentina Alvarado Matos + Victoria Shen + Mookie (DJ)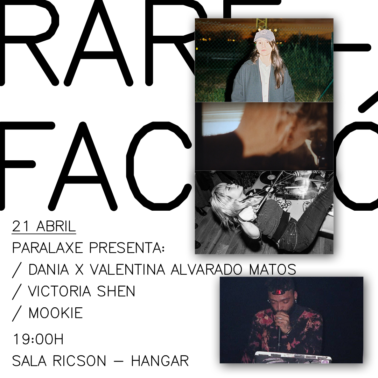 On April 21st, Hangar presents the second session of this year's edition of Rarefacció, a listening cycle curated by Sergi Botella that is part of the Audio Formal/Politics of Listening research line and aims to present proposals revolving around music and sound from an experimental and unconventional point of view. This session is curated by the label Paralaxe Editions, with live performances by Dania x Valentina Alvarado Matos + Victoria Shen followed by Mookie (DJ) from the Jokkoo collective.
Paralaxe Editions presents: Dania x Valentina Alvarado Matos + Victoria Shen + Mookie (DJ).
Date: April 21st, 2023
Time: 7 p.m.
Venue: Sala Ricson, Hangar
Price: € 9 + drink
Tickets
Dania x Valentina Alvarado Matos
Dania Shihab is an artist who moves between cultures and continents with an amorphous creative vision directly tied to her transient existence. As founder of experimental outpost Paralaxe Editions, Dania divides her time between Spain and the remote corners of Australia, where she works as an emergency doctor. In 2022 Dania released her first work, Voz, via Geographic North, on which she rediscovered her voice as a primary instrument and explored the cultural limitations of musical expression.
For Rarefacció, Dania will be presenting a new work, Foreign Body, which is being released on the Ecstatic label. Presented via a new audiovisual collaboration with Valentina Alvarado Matos, the project is rooted in the concept of a foreign body, an extraneous object from outside the human body that must be removed, lest it result in serious sequelae or become maladaptively incorporated. The work finds Dania examining identity through the lens of conflict-induced forced migration, exploring her own experience as a migrant and the persistent sense of being a foreign object within the pathological body politic.
Valentina Alvarado Matos
Valentina Alvarado Matos is an artist whose practice focuses on collage, from which she conceives the image through a gaze that revolves around landscape, gesture and matter. Her work has been exhibited at Los Angeles Film Forum, Conde Duque, Salzburger Kunstverein, Fabra i Coats, Arts Santa Mònica, Viennale, IFFR, Punto de Vista, XCentric, SFCinemateque, S8, LOOP, Cinemateca Madrid, Filmoteca de Cataluña, among others. She has been a resident at La Escocesa, Cultura Resident, The Liaison of Independent Filmmakers of Toronto and Matadero Madrid. Her films are part of the Light Cone distribution catalogue.
She currently shares a studio with Carlos Vásquez Méndez at Hangar.
Victoria Shen
Evicshen is the nom de guerre of sound artist, experimental music performer, and inventor Victoria Shen (she/her). Based in San Francisco, Shen's sound practice is concerned with the materiality/physicality of sound and its relationship to the human body. Her music features analog modular synthesizers, vinyl/resin records, and self-built electronics. Shen's music eschews conventions in harmony and rhythm in favor of extreme textures and gestural tones.
Shen is notably the inventor of Needle Nails, acrylic nails with embedded turntable needles allowing her to play up to 5 grooves of a record at once. Shen's DIY approach extends beyond just instruments but also music releases. Her debut LP, Hair Birth, features copper album art that transforms the cover into a loudspeaker through which the record can be played. Recently, Shen has started releasing hand-made resin records embedded with found materials, each piece functions not only as playable music media but as unique art objects.

Supported by: