A more or less circular correspondence with Lumbung Press and BAR Project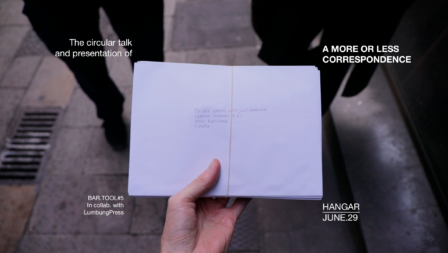 The Lumbung Press residency project, in collaboration with BAR Project, presents A More or Less Circular Correspondence, the final activity of On edition(s), the BAR TOOL #5 training programme.
Between the patient conversational logic of snail mail and the mass production-distribution of Lumbung Press, participants have developed a series of conversations mediated on paper and the uncertainties of time and waiting. The format of the session is conversational and horizontal – the audience is invited to participate or remain a listener – and will address issues such as the relationship to the time of messages, the contrast with immediate digital communication, the matter of paper and ink. As a final piece, there will be a performative action in the field of gentrification and tourism in Barcelona. The participants will print, together with Lumbung Press, one of the two posters of the project, which they will be able to take home or which may end up circulating through letterboxes.
This edition of BAR TOOL #5 has been tutored by Erick Beltrán, from Lumbung Press and the consonni editorial collective.
Practical information
Day: 29 June
Time: 7 p.m.
Venue: Sala Polivalente, Hangar
Free admission