Contact Printer Workshop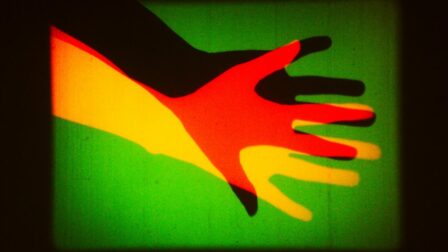 The Crater-Lab project in residence presents the 16mm Contact Printer Workshop by Richard Tuohy & Dianna Barrie.
During two days, an introduction to different ways and techniques of image composition that can be done through contact printer: multiple exposures, mattes, exposure and color correction.
High Contrast film – very high contrast B/W copy film – will be used, a film designed for specific laboratory use that offers unique darkroom and creative possibilities. With it, several compositions and experimental creations will be made, and with 3383 Color Print Film Stock some color correction tests will be made to understand its operation and creative possibilities.
Through developing, we will learn the processes of printing positive black and white and color films.
The machine that will be used will have been restored and modified by Richard and Dianna as part of their work that they are doing as residents at Crater Lab during the month of November.
Remarks
This workshop is complemented by the screening of Shock of the old, a double bill where Australian filmmakers Richard Tuohy and Dianne Barrie return to Crater-Lab to present their new experimental films and the result of their artistic residency at Hangar/Crater-Lab as part of the SPECTRAL project.
Materials
The workshop will provide all the materials and devices necessary for filming, developing, editing and projection.
Practical information
Date: November 26th and 27th, 2022
Schedule: From 10 a.m. to 2 p.m. and from 3:30 p.m. to 7 p.m.
Duration: 15 h
Participants: workshop limited to 8 people.
Price: 80 € (includes all materials and an extra day of use of the laboratory)
Registration: via e-mail to craterlaboratorio@gmail.com
Requirements for participation: aimed at artists, filmmakers, students and anyone interested in the creation of moving images, filmic materiality and artisanal processes of film creation and experimentation.