Paratext #67 featuring Dorota Gawęda & Eglė Kulbokaitė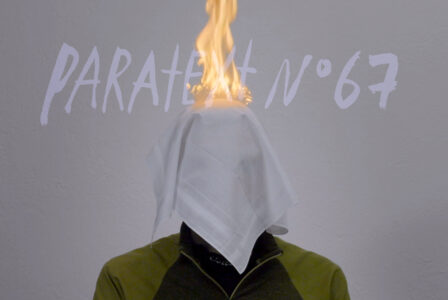 This name, Paratext, hides a monthly program of performances by artists in residence at Hangar as well as artists on exchange grants. They present, in different formats, specific projects or parts of their work. The sessions are always open to the public with the purpose of enabling interaction with the artists themselves.
The next Paratext session will take place on Wednesday, November 23 at 7 p.m. in Hangar's Sala Ricson.
On this occasion, Dorota Gawęda & Eglė Kulbokaitė, winners of the research and production grant of Collide will present their project.
Collide is an Arts at Cern residency programme in partnership with the Institut de Cultura de Barcelona and Barcelona City Council.
Dorota Gawęda. PL/CH. 1986
Eglė Kulbokaitė. LT/CH. 1987
Dorota Gawęda y Eglė Kulbokaitė son un dúo de artistas que viven y trabajan en Basilea, Suiza. Las artistas trabajan en varios campos, como la performance, la pintura, la escultura, los aromas y la videoinstalación, donde el lenguaje se rompe y un género se transforma en otros muchos. Transfiriendo diferentes cuerpos de conocimiento a través del espacio y el tiempo, Gawęda y Kulbokaitė alimentan una práctica basada en la investigación que entrelaza campos aparentemente dispares: ecología y tecnología, ciencia y magia, inteligencia no humana y especulación compartida. El interés por el folclore es un elemento común en su trabajo, que trata de la relación entre el cuerpo y el paisaje a través de la narración de historias, abriendo estados y temporalidades alternativos a través de la homosexualidad y la magia. Se injerta en lo no visual y no lineal, en lo alucinado por las máquinas, en lo olfativo y en lo ritual, como historias vagamente unidas por el lenguaje. La realidad, la ficción y la teoría se entrelazan con aromas, cantos y personajes míticos.
Dorota Gawęda y Eglė Kulbokaitė se graduaron en el Royal College of Art de Londres en 2012. Son las fundadoras del YOUNG GIRL READING GROUP (2013-2021). Han expuesto internacionalmente en: Shedhalle, Zürich (2022); ar ge Kunst, Bolzano (2022); Kunstraum Niederoesterreich, Viena (2022); Centre Culturel Suisse, París (2022); Kunstverein Hamburg (2021); Istituto Svizzero, Palermo y Milán (2021); Kunstverein Leipzig (2021); Swiss Institute, Nueva York (2020); Julia Stoschek Collection, Düsseldorf (2020); Fri Art – Kunsthalle Fribourg (2020); Futura, Praga (2019); Lafayette Anticipations, París (2019); Palais de Tokyo, París (2018); Spazio Maiocchi, Milán (2018); Cell Project Space, Londres (2018); 6ª Bienal de Atenas (2018); Kunsthalle Basel (2017); ICA, Londres (2017); Museo de Arte Moderno de Varsovia (2016); Kunstverein Düsseldorf (2016); Bienal de Berlín 9 (2016); Musée d'Art Moderne de París (2015) entre otros. Son ganadorea de la residencia CERN Collide 2022 y Enter the Hyper-Scientific (EPFL Lausanne) 2022, y galardonadas con el Swiss Performance Art Award 2021.
Supported by: