14.05 Inauguration in la Capella of "L'un i el múltiple" (One and the Multiple)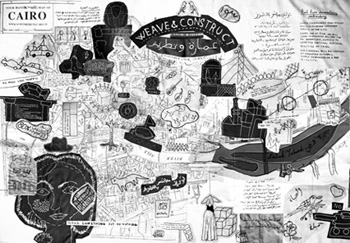 This exhibition features the work of artists who have participated in artists' residence exchange programmes between institutions in Spain and Egypt during 2008 and 2009. The exhibition deconstructs cultural and artistic clichés showing the unity of the Mediterranean while, at the same time, the individual diversity of its artists.
Each project is concerned with observing, discovering and map-making (literally and metaphorically). Using mainly photography and video – although there are also maps, interactive installations and embroidery – the artists explore the complex realities of our contemporary societies, using art to question, investigate and portray our surroundings.
The participating institutions from Egypt are CIC, Townhouse, Artellewa and Medrar.
The institutions from Spain are Hangar, LABoral and CAN Farrera.
ARTISTS
Tarek Hefny, Shady El Noshokaty, Hamdy Reda with Sameh Ismail, Magdi
Mostafa, Mahmoud Khaled, Wensh, Nork Zakarian, Vahida Ramujkic with Aviv
Kruglanski, Álvaro Sau, LaFundició, Pablo de Soto
CURATOR
Pedro Soler.
Related events:
May 14
19.30 h Inauguration
20.30 h Concert by Ehab Abd Al-Latif

May 15
NIT DELS MUSEUS
19.00 h Presentation of the worshop "Real Time Embroidery" with Vahida Ramujkic, Aviv Kruglanski and Rania El Bayoumi.
20.00 h Presentation and projection of the video Las Afueras (The Outskirts) by Álvaro Sau.
20.30 h Presentation and projection of the video De El Cairo a Gaza (From Cairo to Gaza) by Pablo de Soto.
21.00 h A performance entitled Stammer by Shady El Noshokaty.
23.00 h Audiovisual performance by Magdi Mostafa.
May 18
Round table discussion on artists' residencies in general and the exchange programmes between Spain and Egypt in particular, with Pedro Soler, Joana Cervià, Marti Peran and Ramon Blecua.