29/6, Opening of "Radicalment Emancipats", by Mireia C. Saladrigues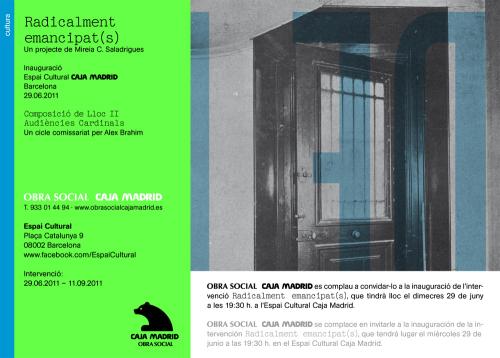 Radicalment emancipat(s) presents the initial research into a number of robberies that have been taking place in Barcelona's museums over the past few years. The security guards and  workers of certain institutions speculate over the possible authorship of a particular individual or group, as the conditions under which the robberies have been taking place are unusual, and resemble one another.
Mireia C. Saladrigues' proposal picks up on these suspicions in order to unfold, through a series of videos and documents presented at the Espai Cultural Caja Madrid, an investigation with the aim of discovering the aesthetic and intellectual motives that might have led certain members of the audience to carry out such acts.
Seen as acts of vandalism by social consensus, yet celebrated by some as fetishistic gestures, or political acts, the movements of the Radically emancipated emerge after a period of research carried out by the artist, not without difficulty, into facts and testimonies from the corridors of Barcelona's arts institutions.
Radicalment emancipat(s), by Mireia C. Saladrigues is the second of four interventions that make up the cycle Audiències Cardinals, which revolves around the perception of the audience in order to make up a puzzle about the reception of art through the works of four young artists based in Barcelona: Andrea Gómez, Iván Gómez, Aníbal Parada and Mireia C. Saladrigues.
Wednesday, 29th of June, at 19:00
Private view of RADICALMENT EMANCIPAT(S) by Mireia C. Saladrigues
Open until the 11th of September
ADMISSION IS FREE
Espai Cultural Caja Madrid a Barcelona
Plaça Catalunya, 9
08002 Barcelona
Open Monday to Saturday, from 10:00 to 21:00
Sunday and festive days, from 10:00 to 14:00
www.facebook.com/espaicultural