3.3.3 Supercollider Users Group Berlin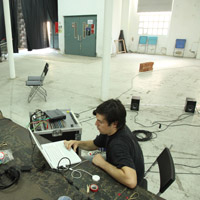 3.3.3 is a multichannel audio-visual project born within the Supercollider Users Group in Berlin, developed in large part at NK and finished in Hangar. 3.3.3 will be presented during the Supercollider Symposium in Ausland at the end of september.
Rubén
Patiño, as first artist-in-residence of l'Ull Cec in collaboration with Hangar, continues to work on this project  from 9th until 20th august. The results will be presented as well in autumm 2010 in Hangar (Barcelona).
http://www.avhc.es/pato/
http://www.myspace.com/patooo
http://www.myspace.com/carndeporc
http://avhc.es/doritos/natura-intersango.html
http://www.nkprojekt.org/