Hangar Obert- Tallers Oberts Poble Nou (Top)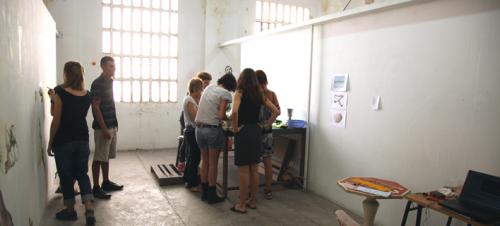 September 17 th, 18th and 19th, 2010
Opening hours: from 12:00 to 14:00, and from 15:00 to 20:00
More information on the program and its activities here.
Resident artists' open studios:
Alberto Gracia, Alex Reynolds,David Bestué/Marc Vives, Diego Pujal, Rubén Verdú,Guillermo de Pfaff, Joan Cabrer, Jordi Ferreiro,Lola Lasurt,Mariana Zamarbide, Mercè Hernández,Rita Rodríguez, Samuel Labadie, Sergi Botella,Mònica Heller, Rubén Nieves/Gerard Rubio (blablablab), Julieta Sans.
Artists on international exchange programs:
Sooyoung Lee (SAS Geumcheon in Seoul)
Gustavo Ferro (Casa das Caldeiras in Sao Paulo)
Friday 17th, at 19:00:
Opening of Hangar Obert, which will include Microficciones, a performance by Suicidasupervivencia.
Saturday 18th and Sunday 19th:
Free performance workshop, by Masu Fajardo (Suicida Supervivencia).
For more information, and to sign up: suicidasupervivencia(at)gmail.com