OPENING AT CA2M ON FRIDAY 13TH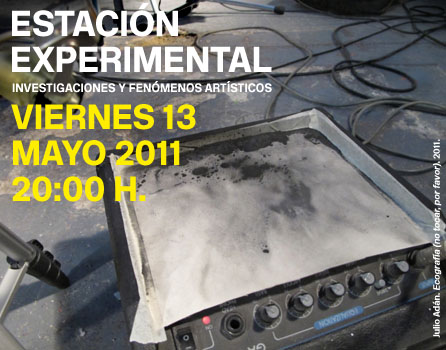 ESTACIÓN EXPERIMENTAL. INVESTIGACIONES Y FENÓMENOS ARTÍSTICOS opens in CA2M on Friday 13th of May.
"Estación experimental" is an exhibition that presents the work of artists whose practice is driven by an uncontrollable impulse that connects them to the most pure aspects of scientific research. Branching off from pre-established guidelines in contemporary art, these artists share, through their work, a certain fascination for issues that are outside of art, which occur within the field of reality but which also go beyond it. 
Hangar has participated in the technical development of Lluis Bisbe's piece, which will be presented in the exhibition together with works by Julio Adán, Guillem Bayo, Alberto Baraya,  Ingrid Buchwald, Carlos Bunga, Caleb Charland, David Clarkson, Björn Dahlem, Karlos Gil, Faivovich & Goldberg, O Grivo, João Maria Gusmão y Pedro Paiva, Lyn Hagan, Ilana Halperin, Kiluanji Kia Henda, Esther Mañas y Arash Moori, Milton Marques, Alistair McClymont, Rivane Neuenschwander y Cao Guimarães, Jorge Peris, Paloma Polo, Rubén Ramos Balsa, Conrad Shawcross, Ariel Schlesinger, Alberto Tadiello, Jan Tichy, Ben Woodeson y Raphäel Zarka.