HANGAR AND THE BARCELONA BIOMEDICAL RESEARCH PARK PRESENT GRID SPINOZA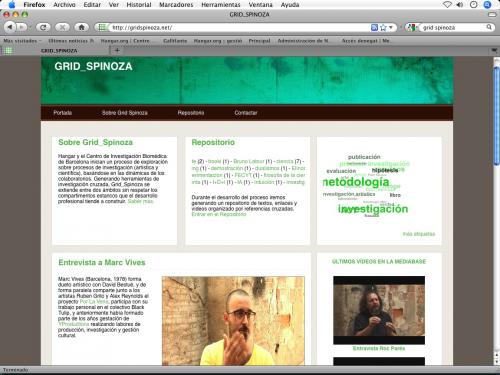 Hangar and the Barcelona Biomedical Research Park present 
Grid Spinoza
, 
and exploration of both artistic and scientific research's  processes, methodologies, and dynamics, looking for points of convergence and ways of sharing knowledge between the two fields. 
On the project's online platform
there will be a common archive of knowledge and an audiovisual data base made up of interviews of artists and scientists. Soon there will also be video documentation of workshops such as Experimento. 2. This was a proposal for working collectively on two of the many axes related to the research: uncertainty and The Metaphor. 
The following people will particpate in Expermient 2.:



Miguel Beato del Rosal. Doctor and researcher, director of the Centre for Genomic Regulation  (www.crg.es).

Octavi Comerón. Artist and professor at the Fine Art Faculty in Barcelona. 

Susana García Noguero. Member of the Platoniq collective (www.platoniq.net).

Alberto Gracia. Resident artist in Hangar (www.albertogracia.com).

Rubén Martínez. Member of YProductions (www.ypsite.net). 

Cristina Pujades. Science researcher, works in the Science Department (www.uf.edu/cexs).

Jordi Villà. Researcher in the biomedical computing research group at GRIB, IMIM-UPF (http://grib.imim.es/).
Grid_Spinoza is a project promoted by Hangar and the Barcelona Biomedical Research Park (PRBB), with help from the Fundación Española de Ciencia y Tecnología (FECYT).