Listening to the Soundscape.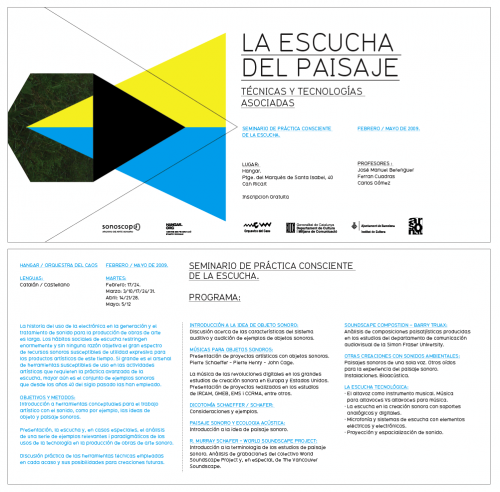 Workshop on the conscious practice of listening.
HANGAR-Orquestra del Caos.
February – May 2009. February: 17/24. March: 3/10/17/24/31. April: 14/21/28. May: 5/12
Languages: Catalan – Spanish.
Place: HANGAR
Schedule: 19h30 – 21h00
Teachers: José Manuel Berenguer, Ferran Cuadras, Carlos Gómez

There is a long history of using electronics in generating and processing sound to create art. Without any objective reason, social listening habits greatly restrict the broad spectrum of sound resources which could be put to expressive use in current artistic work. If the arsenal of tools apt for use in artistic activity requiring advanced listening skills is wide-ranging, even more wide-ranging is the collection of sound art that has been making use of it since the 1940's.
AIMS AND METHODS
-Presentation of conceptual tools for artistic sound work, for example the ideas of a soundscape and a sound object.
-Presentation of, listening to and, in certain cases, analysis of a series of relevant and paradigmatic examples of the use of technology in sound art.
-Practical discussion about the technical tools used in each case and their possible uses in future projects.
PARTICIPANTS AND PRE-REGISTRATION
This workshop is geared towards artists and professionals of any speciality, interested in the use of sound in art, in general, or in their own creations, in particular. No previous technical experience is required. However the number of places being limited, the applicants should indicate their special interest in this area when applying, which can be done on line at :
http://www.sonoscop.net/info/escuchadelpaisaje.html
Or by phone at +34 93 308 4041 extension 22 or at +34 93 301 5545
Confirmation of a place will be communicated by personal email three days before the commencement of the workshop.
PROGRAM
-Introduction to the idea of sound object
Discussion on the characteristics of the auditory system and audition of examples of sound objects.
-Music for sound objects.
Presentation of artistic projects with sound objects. Pierre Schaeffer – Pierre Henry – John Cage
-Music from the digital revolution in the major studios for sound creation in Europe and the United States.
Presentation of projects created in the IRCAM, GMEB, EMS and CCRMA studios, amongst others.
-Dichotomy Schaeffer/Schafer
Reflections and examples
-Soundscape and Acoustic Ecology
Introduction to the idea of soundscape
-R. Murray Schafer – World Soundscape Project
Introduction to the terminology in soundscape studies. Analysis of recordings by the World Soundscape Project group, particularly the Vancouver Soundscape.
Soundscape Composition – Barry Truax
Analysis of soundscape compositions created in the studios of the Department of Audiovisual Communication, at Simon Fraser University
Other creations using environmental sound
Soundscapes with one voice. Other auditions for the soundscape experience. Installations. Bioacoustic.