TV Exhibition space (TVES)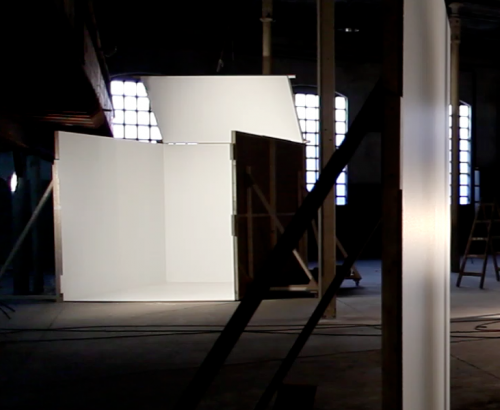 Television as an exhibition space (TVES) is a project by Miniature that tries to contaminate television with contemporary art content.
TVES is a reflection shared with other artists regarding the importance of television and the possibilities offered by it as a medium: a domestic appliance that reaches a broad number of people in order to communicate ideas exposed within it.
Essentially, it is about introducing and highlighting the idea of an exhibition space on TV, reclaiming it as an artistic medium in order to, as a result, fill it with content. To experiment with television, to simply see it as a container, a cubic canvas, a box of interventions, a (possible) artistic medium.
"Start to work inside that idiot box which is our TV, our own box of content, that might perhaps show that TV might not be as stupid as it seems, or not…"
You can see some of the interventions that have already been aired here.
BASIC PREMISES
_ Television is an electrical appliance -within many people's reach-, an appliance that reaches a large number of people in order to communicate ideas exposed within it.
_ Television is a democratic, free, far-reaching medium.
_ Television is just another public space.
_We don't like the contents shown on television.
_The contents shown on television can be changed.
_We want to conquer television, change it from the inside, offer alternative content.
_We can change the content on television; we can offer an alternative.
_There is a necessary relationship between artistic production and production within public space.
_The artist will exhibit his work within/for a medium that is not his usual one.
_The interventions will be shown on public television without any censorship whatsoever.
_The artist has a new medium before him, a new challenge, a new way of connecting with his audience. A new public space.
_The artist dies if he doesn't express himself.
_ …
ADDITIONAL INFORMATION
_Artists may visit the intervention box located in HANGAR (Barcelona).
_The space available for intervention has the following measurements: 2.5m x 2.5m x 2.5m (interior surface of the cube). Wood painted in white (to be negotiated depending on the piece).
_The proposal is absolutely open.
_The interventions will not be subject to any censorship whatsoever and will be aired on public television throughout 2011. Their authorship will be duly indicated in the credits.
_The artists' works will be shown and promoted on the DO program on XTVL. An article will be written up about every artistic intervention, and posted on the blogg "WE ARE DO", which will then be communicated on social networks in order to contribute towards its promotion. 
_No profit will be made from the collaborations, by any of the participating parties.  This is an exchange where every party contributes, and the total result is shared, spread, and promoted (assignment of rights).
_The deadline to make the interventions is May 31st of this year.
_If you are interested in taking part, you must get in touch with us as soon as possible so that a timetable may be drawn up, and we can organise and plan for any production needs, etc.
_Do not hesitate to get in touch with us regarding any doubts or queries.
_THANK YOU for the dialogue!