Residencias_en_red meeting at Red Lima 2011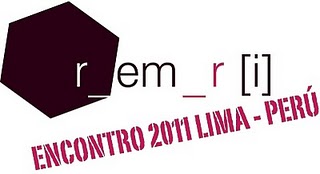 Tere Badía, director of Hangar, will take part in the meeting of the  residencias_en_red platform from the 21st to the 27th of March at the Spanish Culture Centre in Lima.
During the meeting, 28 residency spaces from 12 countries in Latin America will meet to "reflect about the future of the residencias_en_red platform. It is a forum for debate where future models for management will be the key issue to be defined by the members. It has been organised by the Spanish Culture Centre in Lima, AECID, Escuelab, and Tupac, who is hosting the event."
"Residencias_en_red is a platform made up of Latin American art residency spaces, whose aim is to strengthen the organisational capacities of its members, and to consolidate a Latin American space for dialogue, teamwork, and collaboration with other regional and international organisations. Created in 2008 with AECID's support, Networked_residencies has promoted and supported the travels of over 52 artists, curators, researchers and managers connected to the field of independent management and the visual arts.