"El Retrovisor" Video Screening: Historical Memory in Motion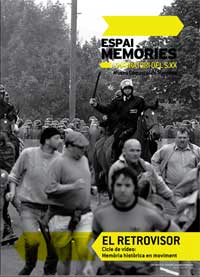 On Thursday 31st of March, at 20:30, Alba Mayol Curci and Álvaro Ramírez (Cooperativa General Humana collective) will present the documentary "Dades per a la Navegació", within the series "Retrovisor", a programme by l'Espai Memòries. Laboratori del Segle XX:
"A programme of films and artworks that revolve around aspects of historical memory and which use experimental working methods.
 By investigating past collective events from different social contexts and communities, this group of works explores the cultural, political, economic, and pedagogic implications of building and researching into representations of history and memory."
The four screenings will take place in March, April and May of 2011. The authors and different specialists will be in charge of presenting every session. The series is being developed together with the making of the first projects produced by Espacio Memorias, the results of which will be shown at an exhibition on the 9th of June, within the afore-mentioned space.  
+info