Mytho(sound)poesis. The imaginative transformation of the world through (sound)fiction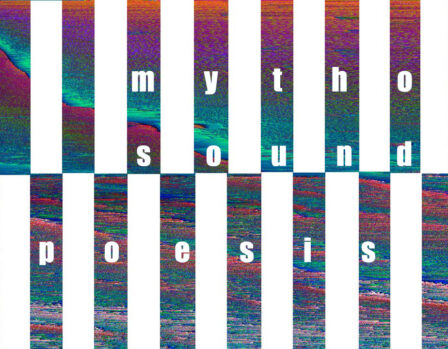 During the month of July the residence of Giulia Deval takes place in Hangar, as part of Audio Formal project on music and sound. Once a year, Audio Formal invites an artist to carry out a residency, which consists of programming different activities for Audio Formal. For this year, Giulia Deval together with Ivan Bringas (XIPE) have conceived the project Mytho(sound)poesis, which will consist of an Expansive Guitar workshop by Ivan Bringas, and 3 live presentations: a science fiction audio-novel by ALMARE, a concert by XIPE and a performance-concert by Arma Agharta.
Mytho(sound)poesis aims to explore fictional practices pursued by artists who have chosen sound as their expressive medium. The project refers to David Burrows and Simon O'Sullivan text Fictioning. The Myth- Functions of Contemporary Art and Philosophy (Edinburg University Press, 2019) but draws a new framework focused on the relationship between sound practices and the production of worlds, people and communities to come – often drawing on residual and emerging cultures – in a co-extensive vision between imaginary pasts and futures.
From this perspective, sci-fi audio novels, use of masks and puppets, circuit bending, artifacts making and unconventional use of music instruments, are seen as different expressions of a shared need: shaping new subjectivities in order to actively interface with the present and the real.
Programme
July 11th-12th: Expansive Guitar Lab
Workshop on construction of sound artifacts held by Ivan Bringas
Guitarra Expansiva is a project based on the construction and invention of mobile devices that allow to extend the instruments, so that the whole body is involved in the action of producing sound.
Each participant will bring a stringed or percussive instrument or sound object, during the workshop new artifacts will be built based on the models invented by Ivan Bringas, adapting and modifying them depending on the needs of each instrument and each participant. All the necessary materials, mainly tubes and tapes, will be provided.
The workshop will last two days, during the first day the artifacts will be built and the second day there will be an improvisation session open to the public.
The workshop is based on imaginary mechanisms and the unconventional use of instruments, it is open and does not require specific knowledge.
It is open to musicians/non musicians and dancers.
Practical information July 11 and 12
Schedules: July 11 from 11 a.m. to 5 p.m. July 12 from 4 to 7 p.m.
Place: Sala Ricson, Hangar
To register, send an email with the name of the participant and an image of the instrument or object to bring to the workshop to ivanbringasmex(at)gmail.com.
Registration is open and free until July 9 for a maximum of 10 people.
Ivan Bringas
Ivan Bringas (Mexico City, 1990) is a guitarist, improviser and composer from Mexico City. His education began very early growing up at Café Jazzorca, a concert center and label founded by his parents that programs musicians engaged in developing their language mainly through improvisation and free jazz. At the age of 10 he entered the Escuela Nacional de Música of UNAM (Universidad Nacional Autonoma de México) to study classical guitar with the masters Juan Carlos Laguna and Marco Iván López Miranda; he finished his studies at Conservatorio Giuseppe Verdi in Turin (Italy) where he is actually based. Over the years he deepened his training by being in contact with musicians such as Leo Brouwer, Víctor Villadangos and Fred Frith. Since 2007 he has been developing the project "Guitarra Expansiva" which won INBA (Instituto Nacional de Bellas Artes de México) award in 2010.
Guitarra Expansiva is an instrument modified by the presence of a mobile element that interacts with the guitar neck through unconventional movements and that requires a proper methodology. He released Guitarra Expansiva in 2011 for Jazzorca Records and Que viva s'aninnia for the Italian label Objet-a in 2015.
17 de julio: ALMARE | XIPE | Arma Agharta (ACTIVITY CANCELLED DUE TO THE CURRENT COVID SITUATION)
ALMARE (IT)
Founded in Turin (Italy) in 2017 by Amos Cappuccio, Giulia Mengozzi, Luca Morino and Gabriele Rendina Cattani, ALMARE is a collective focused on contemporary practices using sound as an expressive medium. ALMARE works in curating, writing, music and organises exhibitions, public talks and performance programs. ALMARE does not aim to separate sound practices into distinct, hermetic categories. On the contrary, it is committed to carry out a musical / artistic / curatorial discourse from a broader inclusive perspective.
Life Chronicles of Dorothea Ïesj S.P.U.
Episode 1: The morning of the Fifth Anniversary, 2020
sci-fi audio novel – 34'56
The Morning of the Fifth Anniversary is the first chapter of the sci-fi audio fiction Life Chronicles of Dorothea Ïesj S.P.U. that follows scholar Dorothea's journey to the city of Baku, tracing her quest to recover (and deal in contraband) sounds from the past. Drawing on the realm of sound archeology and in particular on archaeoacoustics' theories, the work narrates an imaginary future in which any sound can be extracted from objects and matter thanks to a quantum device named ECHO (Equalized Control of Hierarchic Oscillation).
The concept of presence within absence echoes the researcher's ultimate purpose: to find the sonic remains of the Symphony of Sirens by Russian composer Arseny Avraamov performed in Baku in 1922. The avant-garde musical performance incorporated sounds of machines, factories, steam-whistles, bells, sirens and artillery, to form a soundscape of the proletariat.
Dorothea is stuck at Kuryk's harbour, waiting for her ferry to Baku. She looks at her phone and scrolls for updates of the black market auctions in which she illegally sells audio-archeological findings. Her precarious situation as a young researcher led her to trafficking ancient sounds inscribed in matter to archaeoacoustics students but thanks to her friend Juliette Folker, Dorothea receives a grant from a military corporation to study sound weapons. In the midst of her research, she finds odd records from ancient explosions, signals, and sirens. A mysterious buyer is willing to pay an excessive amount to get hold of the records.
Chronicles is part of All Sign Point to Rome, Diane an ongoing research focusing on self-recording, self-monitoring and audio mediumism.
XIPE (IT, MEX)
Giulia Deval – voice, tapes
Ivan Bringas – guitarra expansiva
XIPE is a project developed by Ivan Bringas and Giulia Deval, aiming to create new sonic possibilities by expanding the guitar through innovative interactive electronic and physical elements. The duo combines the guitar with mechanical objects (like a tube or a magnetic tape running inside the guitar's body) that modify its timber and allow the discovering of new sound gestures that get composed in new folklorist works for guitar, voice, and electronics.
XIPE moves with the idea of creating a traditional music for worlds to come, influenced by minimalism, freak folk and improvisation.
Arma Agharta (LT)
Arma Agharta is the sound performance artist and promoter from Lithuania devoted to improvised and experimental music. He got involved in the worldwide underground more than 20 years ago by publishing zines, running label, playing in bands and organizing shows. Currently Arma performs both solo and in collaborations, also curates festivals in Lithuania.
Since 2007 he has done more than 550 performances all over the world.
His intense and high energy shows span a broad territory between the eruptions of chaotic noise and hypnotic psychedelic ritual to dadaist humour, odd bodily movements, spontaneous improvised games, cheap magick tricks and glossolalia.
He has participated in Sonic Protest (France), Dark Music Days (Iceland), All Ears (Norway), Arctic Sounds (Greenland), Klex (Malaysia), Volta (Mexico), Destroy Vancouver (Canada), Transgresje (Poland), Gogbot (Netherlands), Sonic (Denmark), Construction (Ukraine), Le mini Who (Netherlands), Mlode Wilki (Poland), Camp (Germany), Aposition (Russia), Hamselyt (Ukraine), Other Worlds (UK), MEM (Spain), FIME (Mexico), Noise & Fury (Russia), Sonic Circuits (USA), E:MF (USA), SOTU (Netherlands), Sound Around (Russia) and all the main Lithuanian festivals.
His music is exclusively released on cassette format in various European and American labels.
Practical information July 17th
Time: 6 p.m.
Place: Sala Ricson, Hangar
Free attendance on a first-come, first-served basis