Queer Games, a meeting on lgbtq+ video games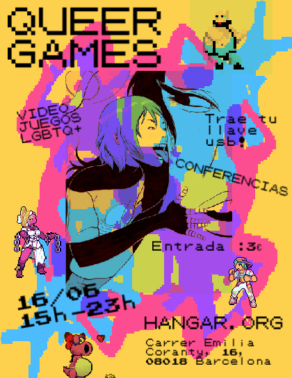 On June 16 at 3pm, Ce Quimera + Gaia Leandra, resident collectives of Wetlab, present Queer Games, a meeting on lgbtq+ video games, in collaboration with Chloe Desmoineaux.
Lgbtq+ characters have been appearing in video games since the 1980s. In the history of video games, LGBT characters have been almost non-existent for a long time, reflecting general heteronormativity.
Why talking about queerness when talking about video games? Queerness is a form of sexuality, but it is also a way of thinking, of living, of feeling: differently. When we talk about queerness in video games, we talk about fair and equal representation of LGBTQ characters, but also about queer theory, queer design, and queer gaming. We need to talk about queerness in video games because we need games and the way we approach them to reflect the full richness of the multiple ways in which each of us lives, loves, and desires.
Program
From 3 p.m.: Videogames Room
There will be stands to play the following videogames
Dys4ia – Anna Anthropy
Collectif Diyke – Dykie Street
Hair Nah – Momo Pixel
Radiator 2 – Robert Yang
NSFWare – Pierrec
A Bewitching Revolution – Colestia
Dominique Pamplemousse – Squinky
Triad – Anna Antropy
Fuck Everything -Lena NW
Homo zapping – PlayLabXY01
Float on – Mo Cohen, Louise Macfadyen, Maria Del Castillo
Almanac – Porpentine
Sticky Zeitgeist – Porpentine
Dinosaurily – Toto Li and Fen Swanson
The Transzone- Glamow Research
Out of a-line – Luci's Triad Games
Consentacle – Naomi Clark
Tell me why – Dontnod
Electric zine Maker – Nathalie Lawhead
5 pm: Discussion on the world of video games
Introduction to the world of lgbtq+ gaming with the participation of:
–Chloe Desmoineaux
–Eurídice Cabañes
-Studio Luci's Triad Dream
Throughout the exhibition it will also be possible to watch the video 𝗢𝗧𝗛𝗘𝗥𝗞𝗜𝗡𝗘𝗦𝗦 𝗔𝗡𝗗 𝗡𝗢𝗡𝗛𝗨𝗠𝗔𝗡 𝗫𝗘𝗡𝗢𝗔𝗘𝗦𝗧𝗛𝗘𝗧𝗜𝗖𝗦 (𝗜𝗡 𝗩𝗜𝗗𝗘𝗢𝗚𝗔𝗠𝗘𝗦) 𝗔 𝗧𝗵𝗲𝗼𝗿𝘆 𝗚𝗮𝗺𝗲𝗽𝗹𝗮𝘆 𝗯𝘆 𝗬𝗘𝗦𝗦𝗶 𝗣𝗘𝗥𝗦𝗘 and the documentary TransGeek Movie by Kevin McCarthy and Sayer Johnson.
Resources
Girl Gamers Episode 4: Identity Issues
Blog de Nathalie Leah Lawhead
Playlist Youtube Queer Trope
Archive juegos Lgbtq+
Rise of the videogame zinester
Practical Information
Date: June 16th
Place: wetlab and Hangar's plató
Schedule: from 15 to 23 h
Language: Spanish
Limited capacity on a first-come, first-served basis