One Drone Day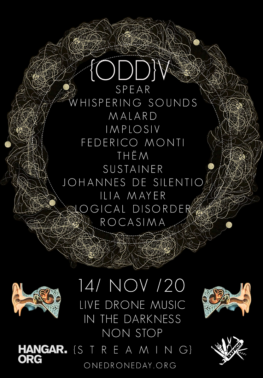 On November 14th, the collaborative project Befaco organizes a new edition of the One Drone Day drone music festival. ODD is an immersive music festival that offers 11 uninterrupted hours of live drone music, in a single space with a quadraphonic sound system and adapted for relaxed, introspective and psycho-sounding listening.
This fifth edition, which will be broadcast in streaming from Hangar, will be adapted to current measures, with a smaller format and a selection of artists who were part of the past editions of the festival.
From 1pm to midnight, you can follow the festival in streaming here.