Storytelling, curated by Mitt Paté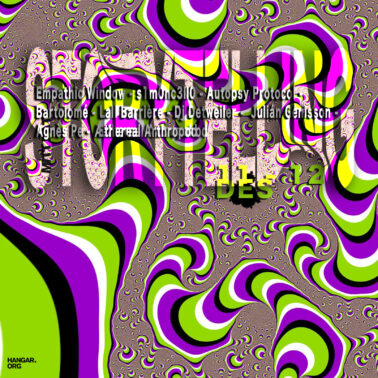 During the month of December the residence of the Mitt Paté stamp/platform, coordinated by Agnès Pe, takes place in Hangar. The residency is part of Audio Formal, Hangar's experimental and educational project on music and sound. Once a year, Audio Formal invites an artist to carry out a residency, which consists of programming different activities through its own platform for Audio Formal.
This year, Mitt Paté is organizing Storytelling. As a screen of a multiplicity of sound layers, which will count with the participation of Bartolomé, Dj Detweiler, Lali Barriére, Emphatic Window, s1m0nc3ll0, Autopsy protocol, Agnès Pe, Aethereal Arthropod and Julián Génisson.
The sound storytelling approaches sound by relating it to the imagination and to the memory of a series of amorphous moods triggered by the temporality of listening. Rather than deciphering the objective codes of meaning, it emphasizes examining how memory, imagination, and experience alter the character of sound. In the Indian grammatical tradition, he differentiates between dhvani (sound heard in the ear) and <spōta (sound captured by the intellect) suggesting that, a sound is an indicator of language and acquires meaning only after a certain sonic explosion, emphasizing the subjective resonances in the perception of different sonic entities. We access unknown spaces, in different narrative spaces through this sonic explosion, which is articulated from a sound grammar. It is here where hyper-listening is activated, emphasizing the conscious aspects of the act of listening and the perceptive development that is triggered in the sonic explosion.
The interventions become a POV (Point Of View) where the listener can evoke the illusion of moving within a realistic but fantastic alternative reality, of immense scale and full detail.
Mitt Paté is a radio program that is broadcast monthly on Radio On Berlin. It is a sound experience of turbocapitalism where the sound layers wobble and juxtapose. Capitalism is a strange hybrid between the ultramodern and the archaic. It is what remains when beliefs collapse on a symbolic scale and all that remains are the ruins and relics, the place where listening in the Mitt Paté passes through; antagonistic contrasts, temporal, historical or geographical leaps, mimicry, a mixture of impossible layers, dystopian contexts, delirious imaginaries, melodies that come and go. Velimir Khlebnikov's dream.
More info coming soon.