Storytelling, curated by Mitt Paté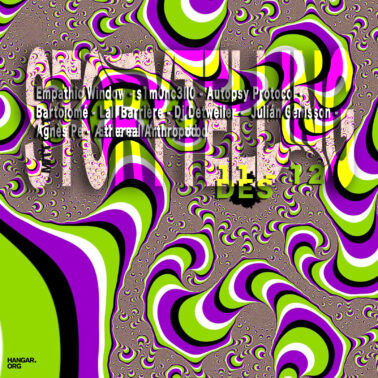 During the month of December the residence of the Mitt Paté stamp/platform, coordinated by Agnès Pe, takes place in Hangar. The residency is part of Audio Formal, Hangar's experimental and educational project on music and sound. Once a year, Audio Formal invites an artist to carry out a residency, which consists of programming different activities through its own platform for Audio Formal.
This year, Mitt Paté is organizing Storytelling. As a screen of a multiplicity of sound layers, which will count with the participation of Bartolomé, Dj Detweiler, Lali Barriére, Emphatic Window, s1m0nc3ll0, Autopsy protocol, Agnès Pe, Aethereal Arthropod and Julián Génisson.
The sound storytelling approaches sound by relating it to the imagination and to the memory of a series of amorphous moods triggered by the temporality of listening. Rather than deciphering the objective codes of meaning, it emphasizes examining how memory, imagination, and experience alter the character of sound. In the Indian grammatical tradition, he differentiates between dhvani (sound heard in the ear) and <spōta (sound captured by the intellect) suggesting that, a sound is an indicator of language and acquires meaning only after a certain sonic explosion, emphasizing the subjective resonances in the perception of different sonic entities. We access unknown spaces, in different narrative spaces through this sonic explosion, which is articulated from a sound grammar. It is here where hyper-listening is activated, emphasizing the conscious aspects of the act of listening and the perceptive development that is triggered in the sonic explosion.
The interventions become a POV (Point Of View) where the listener can evoke the illusion of moving within a realistic but fantastic alternative reality, of immense scale and full detail.
Mitt Paté is a radio program that is broadcast monthly on Radio On Berlin. It is a sound experience of turbocapitalism where the sound layers wobble and juxtapose. Capitalism is a strange hybrid between the ultramodern and the archaic. It is what remains when beliefs collapse on a symbolic scale and all that remains are the ruins and relics, the place where listening in the Mitt Paté passes through; antagonistic contrasts, temporal, historical or geographical leaps, mimicry, a mixture of impossible layers, dystopian contexts, delirious imaginaries, melodies that come and go. Velimir Khlebnikov's dream.
PROGRAM:
Friday, December 12| 4:30 pm – 9 pm
"two hours later…" Julián Génisson
And those final seven seconds? It was very anticlimactic not to leave there after the announced wait. Very good film, the truth is that I love the idea and what makes me happy is that it is an interesting proposal. Okay, I think I got it. The ending doesn't disappoint.
"Yes! That's exactly what I was trying to say! This is a singular metabolism" , Agnès Pe
A type of organism that wanders a bit when it talks (one of the only difficult technical challenges -> getting it to stop talking!) So it's nice to leave it for about 30 minutes and access its metabolism, in a neat and emotional way.
"_", Emphatic Window
An inability to communicate. Pointless (but not soulless) audio experiments and non-music from the artist behind The Downgrade Complex, Training Montage, and AHWE.
"Sin título", DJ Detweiler
Dj Detweiler is an enigmatic artist who works with anticipation and uncertainty as an artistic medium. On his visit to Hangar, nobody has a clue about what he is going to do (?)
"Green Potion Anti-Depression 100+ Vitalized", s1m0nc3ll0
Cooking time for a green antidepressant potion. Glum, grr, cchhh.
Saturday, December 12| 5 pm – 9 pm
"Shapes of outside", Lali Barrière
Shapes of outside proposes a perceptive re-reading of a field recording that transforms itself with each repetition or that transforms us in the way we seek to approach it. A dreamlike journey that intertwines the threshold of what we recognize and the very fact of sound; sounds communicate and move us and often question our own mechanisms of emotion.
"Antorcha", Autopsy protocol+Anton Babinski+Isaaokun
__(\____|@@| Audiovisual project dedicated to non sense and musical ignominy.
(__/\___\—/
"Abstract Progressions through Asymmeric Sound Organism", Æthereal Arthropod
Methodical superimposition of controlled improvisation, inspired by the scientific method; discovering new formulas of structure by careful observation of patterns and their merging. A raw ode to the parallels of mechanical and biological structures, exploring where these realms may intersect. Exoskeletal arrangements encompass segmented rhythmic movements and jointed appendages which outreach into various tonal and textural anatomies, periodically molting in perpetual metamorphosis.
"Palaces ver.1.22474487139…", Bartolomé
✿.。.:.* .:。✿*゚'゚·✿.。.:.* *.:。✿*゚'゚·✿.。.:.*Video games interfaces, apps and fantasy. ✿.。.:.* .:。✿*゚'゚·✿.。.:.* *.:。✿*゚'゚·✿.。.:.*·✿.。.:.* *.:。✿*゚'゚·✿.。.:.*·✿.。.:.* *.:。✿*゚'゚·✿.。.:.*·✿.。.:.* *.:。✿*゚'゚·✿.。.:.*·✿.。.:.* *.:。✿*゚'゚·✿.。.:.*
"Green Potion Anti-Depression 100+ Vitalized", s1m0nc3ll0
Cooking time for a green antidepressant potion. Glum, grr, cchhh.
Practical information
Date: 11-12 December
Time: 4:30 pm
Espai: Sala Ricson, Hangar. c/Emília Coranty, 16
Free entrance. Limited capacity on a first come first served basis
Streaming: https://live.hangar.org/#audioformal