Anòmia ACC016: "Presets" with Eric Laska and Roc Jiménez de Cisneros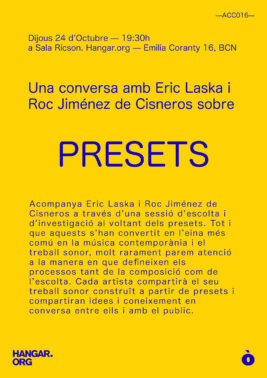 On October 24th at 7:30 p.m. Hangar hosts Presets, the third activity programmed by Anòmia and coordinated by Arnau Sala for Audio Formal. A meeting to accompany Eric Laska (US) and Roc Jiménez de Cisneros (ES) through a listening and research session on presets.
Though presets have become common place in contemporary music and sound work, they are very rarely examined in terms of how they shape the dual processes of both composing and listening. Each artist will share some of their own material culled from presets and divulge their thinking behind the sound through conversation with each other and the public.
Eric Laska is an artist / musician currently based in Philadelphia. Recent projects of his have mostly taken shape as sound installation or performance. His work has been featured in venues such as Eyebeam Art + Technology Center, New York; Machine Project, Los Angeles; Ausland, Berlin; MACO, Oaxaca; San Serriffe, Amsterdam; and online at Gauss PDF and Ear | Wave | Event. He is founding editor of the online audio journal Lateral Addition which seeks to enrich the discourses surrounding contemporary sound practices and a co-founder of the project space Remote Viewing in Philadelphia.
Roc Jiménez de Cisneros (Barcelona, 1975) is an artist. He is part of the computer music group EVOL together with Scottish artist Stephen Sharp. Their work explores processes of deformation applied to post-acid house culture. EVOL recordings have been released by labels such as Diagonal, Editions Mego, Presto!? or iDEAL amongst others.
Free entrance.